Sigmund Freud's ashes targeted in Golders Green Crematorium raid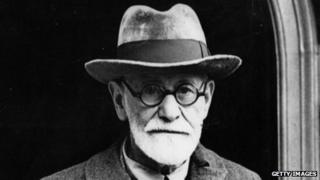 "Callous" thieves have tried to steal an urn containing Sigmund Freud's ashes in a raid on a north London crematorium.
The burglars "severely damaged" the 2,300-year-old urn that contains the remains of Freud and his wife Martha.
They attempted to take it from Hoop Lane Cemetery in Golders Green overnight on New Year's Eve.
Freud, who became known as the founding father of psychoanalysis, died in London in September 1939.
Detective constable Daniel Candler said: "This was a despicable act by a callous thief.
"Even leaving aside the financial value of the irreplaceable urn and the historical significance of to whom it related, the fact that someone set out to take an object knowing it contained the last remains of a person defies belief."
Freud moved to Britain from Nazi-controlled Austria in 1938.
Golders Green Crematorium has seen the funerals of many notable figures, including Dracula novelist Bram Stoker, comedian Peter Sellers and singer Amy Winehouse.
A crematorium spokesperson said the urn had been moved to a secure location and security was being reviewed.