Kevin Ssali stabbing: Roree Cox guilty of bus murder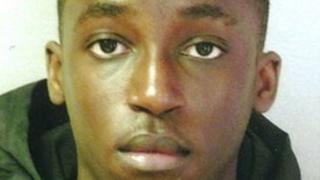 A teenager has been found guilty of the murder of a 14-year-old boy who was stabbed on a south-east London bus.
Roree Cox, 18, from Lewisham, was convicted of murdering Kevin Ssali.
The Old Bailey heard that Kevin was having an argument with Cox's brother while on the 202 bus in Burnt Ash Road in Lee in September 2012.
He then called Cox, who was on a nearby bus. He then got off his bus and boarded the 202 when he took a knife out of his shoe and stabbed Kevin.
Mizen murder scene
The teenager died after being taken to hospital. Post-mortem tests gave the cause of death as a stab wound to the heart.
The stabbing happened a few hundred yards from the bakery where 16-year-old Jimmy Mizen was murdered in 2008.
Jimmy's mother Margaret said at the time of the stabbing: "Today what was horrible was that I saw all the ribbon that was around the area and that brought back such memories of when Jimmy was killed.
"It is painful and it does bring back the pain."
After the conviction, lead investigator Det Insp John Marriott said: "The events that led to Kevin's death started as an exchange between two boys that wasn't violent, or threatening to other people on the bus.
"Roree Cox's actions show a young man who was carrying a knife, and prepared to use it.
"He stabbed Kevin without even considering if his brother was in danger or if Kevin, who was unarmed, could fight back."
Outside court, his mother Clemence Mudage said: "He was a very good child, a happy son. He loved music, he had a lot of friends.
"He always had respect for me and that's why I find it tough because I never knew, he never told me, he was bullied at school.
"I was shocked to hear evidence from total strangers, kids and public witness who didn't even know me or my son who stopped a fight when ten people beat him."
Cox will be sentenced on 28 February.