London Underground strikes: And so it begins…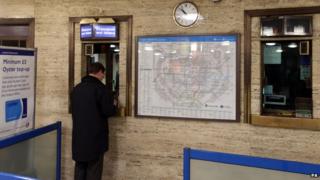 Tube strikes, and so it begins…
The changes to how London Underground (LU) operates have been around for some time but now strike dates have been declared by the RMT Union. It's highly likely the TSSA union will also follow suit.
If you missed it, the staffing plan is to cut about 950 staff and close all ticket offices.
LU says it'll try and avoid compulsory redundancies and all stations will be staffed while trains are running. It wants to move the staff from the ticket offices onto the gate lines.
The unions have concerns over the jobs cuts and safety. They believe there should be more staff not fewer as the number of passengers continues to grows.
Party trick
A few observations from me so far:
London Underground initially tried to tie in the idea of a 24-hour weekend Tube into this proposal.
It was a neat party trick because that idea is very popular. Cynics would say it was razzle-dazzle to distract from the real proposal - ticket office closures.
It does seem that many commuters I have spoken to appreciate these are two separate issues. Certainly the unions want to separate these policies and arguably they seem to have been successful.
"Lone working"
The history over ticket office dispute does not bode well for the unions.
In 2010 with a similar mandate (76% of those who voted backed strike action, compared to 77% in 2014), strikes did not avert the reduction in ticket office opening hours.
Will London Underground and the mayor be willing to steamroller this proposal through as well?
I've noticed in outlying stations (called local stations in the LU proposals) a staff member could be working alone under a supervisor who will also be looking after six other stations.
Even in London Underground's own documents "lone working" will be given particular attention when assessing risk. "Security" and "assault" are also listed.
By closing ticket offices and cutting staff LU will save about £50m a year or £270m by 2020-21.
Also you would also think the ticket offices will be available for use as retail space another income stream for LU.
There is no doubt these proposals are some of the most radical the LU has ever seen.
Will commuters be concerned at closing all ticket offices? Can technology fill the gap?
Will LU management and the mayor listen to the unions? Or will this be a repeat of 2010?
Insiders say there is plenty of time to make progress in talks - could we see compromise in the staff reductions?
The first 48-hour strike starts on 4 February.