Campaigner Tim Haries guilty of defacing Queen portrait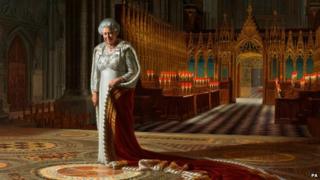 A Fathers4Justice campaigner has been found guilty of defacing a portrait of the Queen while it was on display in Westminster Abbey.
Tim Haries, 42, of Bellis Avenue, Doncaster, told jurors he vandalised the picture to highlight the "social justice issue of our time".
He was accused of spraying the word "help" on the Ralph Heimans painting.
Harris denied a charge of causing criminal damage of more than £5,000 at Southwark Crown Court.
The father-of-two smuggled a can of purple spray paint into the abbey on 13 June before scrawling the word "help" on the £160,000 painting.
Haries looked straight ahead as the verdict was announced in front of a public gallery full of supporters, many of them dressed in purple, the colour adopted by the campaign group.
The court heard that, moments after committing the act, Haries told a Westminster Abbey steward: "Sorry mate, I've got nothing against the Queen" before telling a police officer he was "guilty as charged".
Prosecutor Allister Walker said Haries shouted "fathers for justice" as he put the graffiti on the large oil painting before being tackled to the ground by steward Peter Crook.
Haries, who was wearing a "prominent" Superman buckle on his belt, told officers who arrived at the scene "it's for Fathers4Justice".
Photographs of the incident were later posted on a Fathers4Justice Facebook page.
'Hate crime'
Before being sent out to deliberate their verdict, jurors were addressed by Haries who told them he had now decided to represent himself.
In his closing speech, Haries said he had carried out the act as a protest against the "social catastrophe" of fathers not being allowed access to their children.
"The pain of losing my children has been like a living bereavement for me," he said.
"I believe that contact denial is a hate crime and an abuse of children's fundamental rights."
In his summing-up, Judge Alistair McCreath told the jury that direct action or civil disobedience could not be used as a defence in law.
After being found guilty, Haries said he wanted to reappoint his defence barrister Kyriakos Argyropoulos.
Adjourning sentencing for a month, Judge McCreath told Haries he could not "just duck and dive and have counsel and not have counsel".
Haries was bailed ahead of sentencing on 5 February, though the judge told him that was not an indication of how he would be dealt with.
Following the verdict, London Chief Crown Prosecutor Baljit Ubhey said it had been "a deliberately planned attack on a prominent piece of artwork".
"Instead of choosing any one of numerous legitimate and lawful ways of expressing any views he had, he instead chose to deface a piece of art displayed for the enjoyment of others."
The portrait by artist Ralph Heimans had been cordoned off by a rope in the abbey's Chapter House as part of a wider exhibition to celebrate the Queen's Diamond Jubilee when Haries defaced it.
The 11ft (3.3m) by 9ft (2.7m) oil painting was bought by the abbey for £160,000 after previously being on display in the artist's native Australia and cost £7,300 to repair.