Campaigner damaged Queen portrait to 'highlight injustice'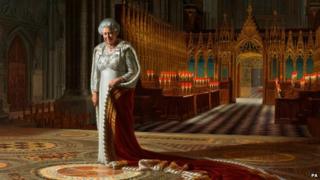 A Fathers4Justice campaigner who defaced a portrait of the Queen has said he did so to highlight the "social justice issue of our time".
Tim Haries, 42, of Bellis Avenue, Doncaster, is on trial at Southwark Crown Court for causing criminal to the painting at Westminster Abbey.
He is accused spaying the word "help" on the Ralph Heimans painting.
Mr Haries said he was protesting about the "social catastrophe" of fathers now being unable to see their children.
He made the comments as he addressed jurors in his closing speech as he had decided to represent himself.
He said: "The pain of losing my children has been like a living bereavement for me.
"I believe that contact denial is a hate crime and an abuse of children's fundamental rights."
£7,300 to repair
Summing up, Judge Alistair McCreath, told the jury that direct action or civil disobedience could not be used as a defence in law.
"There is, as you all know, an honourable tradition of civil disobedience here and elsewhere in the world.
"These were people who wanted to demonstrate the passion of their beliefs and the justice of their cause and they did so, by making throughout their actions, two important statements.
"First, 'I believe so strongly in this cause that I'm prepared to show it by breaking the law'.
"And secondly, 'The world can judge how strongly I feel by seeing I'm ready to take the consequences of that unlawful act'.
"What they did not and cannot say was 'Because I have a strong belief in the justice of my cause I should be allowed to break the law, my belief should give me exemption from the consequence of my actions'."
The portrait was cordoned off by a rope in the abbey's Chapter House as part of a wider exhibition to celebrate the Queen's Diamond Jubilee.
The 11ft (3.3m) by 9ft (2.7m) oil painting was bought by the abbey for £160,000 after previously being on display in the artist's native Australia and cost £7,300 to repair.