Brompton Cemetery receives £3.7m for restoration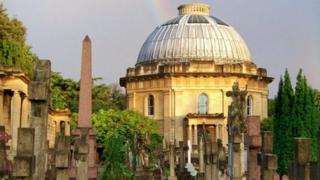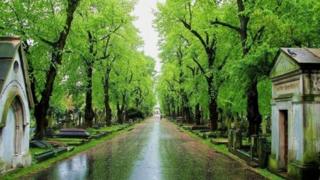 A west London cemetery where famous names including suffragette Emmeline Pankhurst are buried is to be restored.
Brompton Cemetery has received £3.7m from the Heritage Lottery Fund and Big Lottery Fund's Parks For People scheme.
The Grade I registered cemetery is one of London's "magnificent seven" burial grounds, which include Highgate and Kensal Green.
Fifteen parks and cemeteries in the UK will receive a share of £26.5m as part of a scheme to restore open spaces.
'Untapped potential'
The Grade II listed domed chapel in the cemetery, which is designed in the style of the Basilica of St Peter in Rome, will be repaired as part of the work and converted into a space for education and events.
The north lodge will also be transformed into a cafe, information centre and volunteer base.
Carole Souter, chief executive of the Heritage Lottery Fund, said: "Our historic cemeteries, with their wealth of heritage, also offer huge untapped potential and we're delighted now to include them specifically in this programme."
The cemetery is the burial ground of Chelsea Pensioners, Commonwealth servicemen from World War One and World War Two, as well as and the inventor of the commercial Christmas card, Henry Cole.
Brompton Cemetery is one of seven large burial grounds that were established in London during Victorian times to ease overcrowding at smaller churchyard cemeteries. The sites contain six listed buildings and more than 35,000 monuments.
The Royal Parks, which manages Brompton Cemetery, said it was delighted that its bid for lottery funding had been successful.
Greg McErlean, director of projects, added: "Our proposals are reflective of the close work undertaken with the Friends of Brompton Cemetery and the local community to ensure Brompton Cemetery gets the sustainable future that its rich history deserves."
Lesnes Abbey Wood park in Bexley, south-east London, will also receive £3.5m from the Heritage Lottery Fund and Big Lottery Fund's Parks For People scheme.