Acid attack victim Naomi Oni 'followed by woman in veil'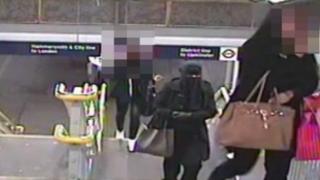 A jury has been shown CCTV footage of a woman wearing a face veil allegedly following the victim of an acid attack in east London the day of the attack.
Naomi Oni, 21, suffered burns to her face and chest on 30 December 2012 in the attack near her home in Dagenham.
The victim said she ran as she felt "someone was trying to kill me".
Mary Konye, 21, who denies throwing the acid, allegedly sent her friend a text as Ms Oni lay in hospital the next day saying: "OMG, can't believe it."
'Ugly monster'
Ms Konye, of Canning Town, pleaded not guilty to throwing or casting a corrosive fluid with intent to burn, maim, disfigure, disable or do grievous bodily harm at Snaresbrook Crown Court.
Giving evidence, Ms Oni said the pair had been friends since secondary school.
It is alleged Ms Konye attacked her friend because the Victoria's Secret shop assistant had once called her an "ugly monster" when they fell out in April 2011.
They allegedly fell out after Ms Konye was accused of sending a text to Ms Oni's boyfriend.
The accused, a Hertfordshire University business and finance student, responded by calling her friend a "slag", the jury heard.
The court was told the pair did not speak to each other until September that year.
The prosecution allege the attack on Ms Oni was a copycat of the 2008 acid attack on model and TV presenter Katie Piper.
The TV presenter was left blind in one eye and scarred for life and Ms Oni told the jury her friend knew a documentary on the attack had had a deep impact on her.
The victim told the court that her friend was "insecure" about her looks and did not like being photographed.
Describing the moment she was attacked, Ms Oni said: "I immediately felt that someone was trying to kill me and so my instinct was to run as fast as I could to get home."
While in school the friends had shared a "private joke" about the horror movie Wrong Turn.
Ms Oni said: "For example if people at school would laugh at us or bully either of us we would laugh with each other and say 'Oh, you're from Wrong Turn' to insult them back."
Following the attack on Ms Oni, it is alleged Ms Konye posted a picture of the burnt faced Freddy Krueger character from the film Nightmare on Elm Street, together with the message: "Who looks like Wrong Turn now?"
The case continues.