Morocco trek death: 'No alarm' before Samuel Boon collapsed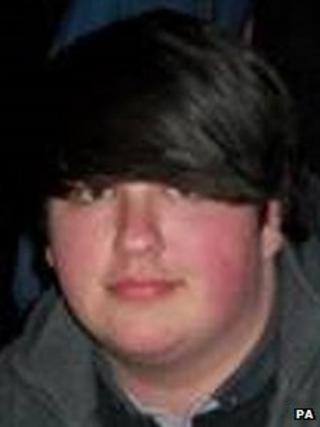 A expedition leader in charge of a trek in Morocco in which a teenager died has said he had "no alarm bells ringing" moments before the boy collapsed.
Stephen Bates told an inquest that Samuel Boon, 17, had shown no signs of heat illness as he took part in a trek to Amezmiz in the High Atlas foothills.
The inquest at Bromley Civic Centre heard temperatures soared to 40C (104F) on the day Mr Boon collapsed in 2012.
The inquest has heard that it took two hours to get him to hospital.
Ten pupils from the Business Academy in Bexley, south-east London, went on the trip after raising funds themselves.
They had been due to work on a rural project for seven days after the trek, but the trip was cut short after Mr Boon died.
The inquest has heard he had been prescribed medication for bed-wetting at the time of his death which warned users to limit their fluid intake.
Pinched ear
Mr Bates, a former Army engineer who was leading his first expedition in the north African country, said he had encouraged Samuel, who was 6ft 2in and weighed 20 stone, as he struggled to climb some steep areas.
"I think he was tired," Mr Bates said.
"He was walking under his own steam. There were no alarm bells ringing in my head."
He said he did not see Mr Boon fall to the ground, as the group made their way to catch a local bus to complete that day's trek.
When he realised he had collapsed, he pinched Mr Boon's ear lobe as he became unresponsive.
"I suspected a heat injury but I didn't know for sure," he said.
The leader then said he contacted the tour operator, World Challenge, before the teenager was carried on a makeshift palette to the roadside to wait for transport to arrive.
He said he had not requested a helicopter because he knew transport was on its way. "What I didn't expect was a minibus," he said.
'Low-level emergency'
Questioned by Ben Compton QC, representing Samuel's family, Mr Bates denied the teenager was "pressurised" to carry on walking after complaining earlier that day that he could not continue.
Omar Ait Lmouden, World Challenge's ground agent in Morocco, said he believed he was dealing with a "low-level emergency" when he received a call from the local guide to inform him Samuel had collapsed and needed transport to hospital.
In a statement read to the inquest, Mr Lmouden said he had called for a minibus as ambulances in the area were "slow and unreliable".
"In all my time working for World Challenge I have never called for an ambulance," he said.
Earlier Guy Hewson, assistant head at Bexley Business Academy, who carried out a risk assessment for the school, said he would not have agreed to the trip had he known medical assistance was not available for two hours.
The inquest continues.