Arsenal vs Spurs game: Anti-Semitic tweets probed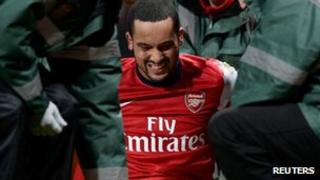 Police are examining anti-Semitic tweets posted after the Arsenal vs Spurs match where winger Theo Walcott and St John Ambulance staff were pelted with missiles.
The Twitter messages are believed to have referred to the Holocaust.
Coins are thought to have been thrown at Walcott as he was stretchered off after injuring his knee.
Saturday's incident is being looked at as part of Operation Arrowtip, which focuses on football-related crime.
A Scotland Yard spokesman said: "The MPS takes all such incidents very seriously. Officers from Operation Arrowtip are investigating and are liaising with both clubs and the Football Association (FA) over these incidents."
The FA confirmed it has contacted both Arsenal and Spurs over the missile-throwing and said it would back the harshest punishments possible, including life bans for fans.