London riots: 133 still not compensated, Labour says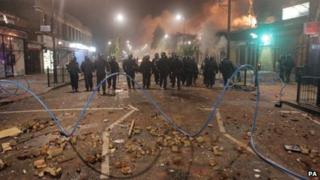 More than 130 people who claimed compensation following the London riots in 2011 are yet to receive a single penny, Labour has said.
The opposition said of all claims, less than 16% of the requested cash has been paid out more than two years after the violence and looting.
Shadow home office minister Steve Reed obtained the figures through Freedom of Information requests to the Met Police.
A Mayor of London spokesman said only the most complex cases remain.
'Broken promises'
"Everyone who wasn't insured and made a valid claim has been paid, and over 96% of insured claims have been settled," added the spokesman for the Mayor's Office for Policing And Crime (MOPAC).
But Mr Reed, MP for Croydon North, said the figures showed Prime Minister David Cameron and Mayor of London Boris Johnson had broken promises made to riot victims.
He said: "With the eyes of the country on him, David Cameron promised the victims of the riots they would not be forgotten and would not be left out of pocket.
"It's disgraceful there are still residents and business owners in London facing financial hardship because they have received either too little compensation or nothing at all."
'Majority compensated'
The figures released by the Met showed that by 6 November last year claims totalling £299m had been made.
And by that date the totals paid out by the Met were £46.9m (15.7%) with 133 claims outstanding.
All the claims were made under the Riots Damages Act 1886 - which entitles insurers and the uninsured to claim costs from a taxpayer backed fund.
In November, an independent review commissioned by the home secretary recommended a series of changes to the act.
In his report, Neil Kinghan said the claims process needed to be faster and more efficient to ensure that smaller businesses were given the help they needed to get back on their feet quickly.
Damian Green, Policing, Criminal Justice and Victims Minister, said a consultation on the next steps to take following this review would be launched "early this year".
He said: "The vast majority of victims have now received compensation."
Riots and looting began in Tottenham, north London, on 7 August 2011 after father-of-four Mark Duggan was shot during a police operation.
It spread swiftly, becoming the worst public disorder for a generation.
In 2011, the cost of loss and damage across England was estimated at well over £100m by the insurance industry.