PC Yvonne Fletcher killing: Records 'vindicate' search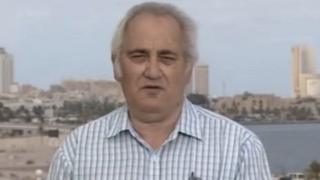 A day before PC Yvonne Fletcher was shot outside the Libyan embassy in London in 1984 officials were warned three times of potential violence.
A colleague who was on duty with PC Fletcher that day says the evidence in newly-released documents vindicates his bid to find her killers.
Former PC John Murray described the revelation as "absolutely horrendous".
PC Fletcher was killed when shots were fired from inside the embassy on 17 April, as she policed a demonstration.
'Find killer' vow
PC Murray was standing feet away, policing the peaceful demonstration by anti-Gaddafi demonstrators, when 25-year-old PC Fletcher was shot in the abdomen in St James's Square.
He said: "It could have been me that day. I promised Yvonne, as she lay down, that I would find her killer and that is what I will do."
Papers on the killing, released under the 30-year rule by the National Archives, show Libyan officials in both London and Tripoli warned they would not be answerable for the consequences if the demonstration went ahead.
The files show how the night before the shooting the British ambassador in Tripoli, Oliver Miles, was summoned to the Libyan foreign ministry and told the demonstration represented a threat to the People's Bureau.
Meanwhile, officials from the People's Bureau rang the Foreign Office with concerns and later turned up there with a message for the duty officer that was strikingly similar to that given to Mr Miles in Tripoli.
'Get some support'
Another warning came from GCHQ, which intercepted a message from Tripoli instructing those in the bureau to open fire - but the intercepts only arrived three hours after PC Fletcher was shot.
Mr Murray told BBC Radio Wiltshire: "I think the information released is rather startling.
"To be warned once I would think, but to be warned twice and no action taken - it appears - is absolutely horrendous."
Asked if the information would assist in finding those responsible, he said: "I think it will.
"It absolutely vindicates what I have been doing over the last 30 years.
"I would hope now, with the release of these documents, that I will get some support and some help from the government and the Met Police rather than do this myself."
Mr Murray travelled to Libya in 2011 to investigate one of the last surviving suspects Matouk Mohamed Matouk.
A spokesman for the Metropolitan Police said the service "remains committed to working with the Libyan authorities to identify who was responsible".
He added that in September last year two detectives were deployed to Libya for two days as part of the murder investigation.