Thameslink train hits roof at London's Blackfriars station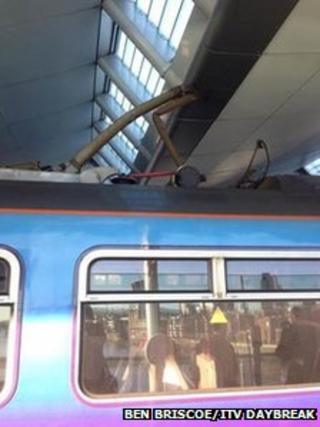 An investigation has been launched after part of a train hit the roof of London's Blackfriars station.
It is not yet known how the carriage's pantograph - which connects the train to the overhead lines - came to hit the roof of the central London station.
The Thameslink train to Sevenoaks crashed at about 09.55 GMT. No-one was injured and the train has been removed.
Southeastern, which runs the service on First Capital Connect trains, said it was investigating the crash.
Passengers who were on the train, which had left St Albans at 08:58, were able to use their tickets on London Underground services to continue their journeys.
First Capital Connect said there were delays of up to 45 minutes on the line as a result of the crash.