Rise in patients after London New Year celebrations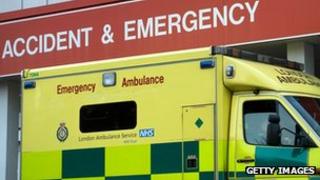 More than 2,500 people called London Ambulance in the first five hours of the new year and more than 400 people visited 13 temporary treatment centres.
A spokesman said the majority of calls were alcohol-related and they were still busy late in the morning.
Staff worked alongside St John Ambulance at the treatment centres across the city with 88 of the 438 patients requiring hospital treatment.
The ambulance service said more people had to be taken to hospital this year.
Paul Gates, assistant operations director, said even though more than 500 people visited the 13 treatment centres in the early hours of New Year's Day last year 49 people required hospital treatment.
In 2013 103 more calls were received between midnight and 05:00 GMT.
This year the peak hour saw more than 600 calls received between 02:00 and 03:00, with the majority of overall calls being alcohol-related.
"We would urge people to only call if their situation is life threatening otherwise contact 111 or go and see their pharmacist," added Mr Gates.