London New Year's Day Parade: Thousands take to streets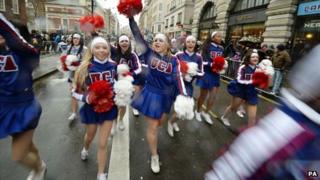 Thousands of people have been taking part in London's traditional New Year's Day parade, which this year celebrated the swinging 60s.
More than 500,000 people were expected at the event which, despite heavy rain, organisers said would be the "grooviest New Year's Day in over 50 years".
The 2.2-mile parade, which started at midday, had 17 marching bands.
The procession, which is now in its 28th year, came to an end in Parliament Square.
Panamanian marching band Banda de Musica Colegio Moisés Castillo Ocaña, from the city of Chorerra, led the parade from outside The Ritz Hotel, in Piccadilly.
It followed a route along Piccadilly, Lower Regent St, Pall Mall, Trafalgar Square and Whitehall.
Acts also included a tribute to the Rolling Stones.
Bob Bone, parade executive director, said: "They say if you can remember the 60s then you weren't there - so we are giving the world a little reminder of just how cool it all was."
'Dazzling fireworks'
As the year began, tens of thousands of revellers in London braved the threat of rain to enjoy a fireworks display as peach snow and orange-scented bubbles fell on visitors.
Partygoers queued for hours to get a prime spot near the London Eye, where an enormous display lit up the sky.
Up to 100,000 people watched the event, during which people were given LED wristbands and fruit-flavoured sweets.
After watching the fireworks, revellers joined in a traditional rendition of Auld Lang Syne.
London mayor Boris Johnson said there was "no better way to celebrate the highs of 2013 and the start of an exciting new year than enjoying one of the world's most dazzling fireworks displays".
The Metropolitan Police said it had 3,800 officers on duty for the event.
A spokesman said 100 people were arrested up to 04:30 GMT, including 39 for drunk and disorderly behaviour and 21 for assault.
Others were arrested for drugs offences, affray, sexual offences, theft and carrying an offensive weapon.
Ch Insp Robyn Williams said forecasts of wind and rain had not deterred revellers from filling up the viewing area in record time.
"Crowds were good natured and there were no major issues reported to police," she said.