Plans for 'cycle utopia' above London's rail lines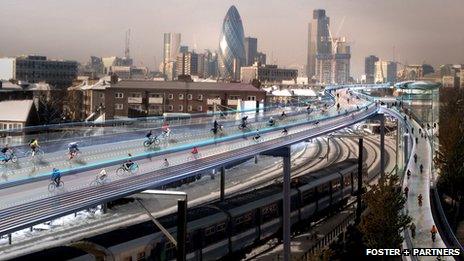 Plans to build a network of cycle paths high above the streets of London are being put forward for consultation.
SkyCycle is a 136-mile (219 km) route, with the first phase, proposed from east London to Liverpool Street Station, costing more than £200m.
If approved, the 10 routes would be built above existing rail lines and would take about 20 years to complete.
The plans will be sent out to interested parties for feedback before a planning application is submitted.
Sir Norman Foster, the architect who designed London's Gherkin tower, has been working with Exterior Architecture and Space Syntax on the concept since 2012.
He said cycling was one of his great passions, particularly with friends.
"I believe that cities where you can walk or cycle rather than drive are more congenial places in which to live," he said.
"To improve the quality of life for all in London and to encourage a new generation of cyclists, we have to make it safe.
"However, the greatest barrier to segregating cars and cyclists is the physical constraint of London's streets, where space is already at a premium.
"SkyCycle is a lateral approach to finding space in a congested city. By using the corridors above the suburban railways, we could create a world-class network of safe, car free cycle routes that are ideally located for commuters."
He said early studies of a SkyCycle system indicated that it provided capacity at a much lower cost than building new roads and tunnels.
The car-free cycle routes will be accessed via ramps at more than 200 points.
Sam Martin and Oli Clark of Exterior Architecture Ltd said: "SkyCycle is an urban cycling solution for London. A cycling utopia, with no buses, no cars and no stress."
A spokesman for Network Rail said they supported the plans.
He added: "We are always happy to look at ways we can contribute to improving travel and transport in London. We will continue to liaise with all involved as the aspiration for this innovative scheme develops."
Related Internet Links
The BBC is not responsible for the content of external sites.