New Year Honours: Jimmy Mizen's parents on London list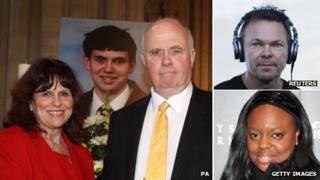 The parents of murdered schoolboy Jimmy Mizen have been recognised in the New Year Honours list.
Barry and Margaret Mizen have been appointed MBE for their work increasing young people's awareness of the consequences of violent crime.
Radio 1 DJ Pete Tong has been appointed an MBE for his impact on dance music.
The make-up artist Pat McGrath, recognised for her "artistry and inventiveness" in the fashion and beauty industry, is also made an MBE.
The 47-year-old, who has worked with fashion houses including Versace and Valentino as well as for magazines such as Vogue, was named the most powerful black woman in fashion in 2003 by the New Yorker.
Jimmy was killed on 10 May 2008 - the day after his 16th birthday - in an attack in Lee, south-east London. Jake Fahri is serving a life sentence for his murder.
Since then, Jimmy's parents have launched a foundation that aims to help make young people safer.
Their CitySafe campaign, which encourages young people to provide places of safety for others who are fleeing violence, has been in operation across London and Liverpool.
'Powerful message'
Mr Mizen, 62, said he was "absolutely overwhelmed" and humbled at the recognition.
"It speaks just as much about everyone else in the family and hundreds of others who support us as well," he said.
Mrs Mizen, 60, said: "What makes it important is it's helping to keep Jimmy's memory alive.
"On the night that Jimmy died, I promised him two things in the quiet of my bedroom when I was trying to make sense of what happened, and that was that I would do everything to keep his name alive and that I would dedicate my life to working for peace.
"I feel that this is something that will help me fulfil my promise to him."
Mr Mizen added: "It's a powerful message that what we're doing as a couple and a family is having an effect."
Those in London who have been awarded a British Empire Medal include Madeleine Josephine Hennell and Henrietta Shorter, cleaners for 10 Downing Street, for services to the prime minister's office; James Caplin for services to the Notting Hill community; Ann Donnarumma, a volunteer in child protection and bereavement care; and Judith Thomas, a volunteer at HM Prison Wormwood Scrubs for services to the prison service.