Greenwich calls for planning applications for betting shops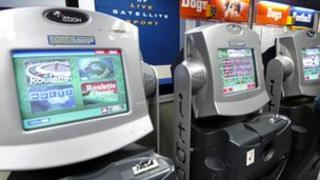 Greenwich Council is calling on the government to bring in planning permission for betting shops.
Currently only a licence is needed to open a betting shop, which the council said does not give a clear picture of their concentration in an area.
Greenwich has 53 betting shops, including 13 in Eltham, 12 in Woolwich and nine in Plumstead. The council said they are spreading in deprived areas.
The Association of British Bookmakers said "deprived areas" are not targeted.
Greenwich's councillors have now voted unanimously to back a motion calling on the government to introduce a separate planning use class for betting shops which would make it mandatory for new shops to apply for planning permission and make a case for its location.
Cabinet member for Community Safety and Environment in Greenwich, Councillor Maureen O'Mara, said it was "crucial to ensure that betting shop operators aren't able to populate high streets too heavily".
Applications 'scrutinised'
The authority would try to ensure "that areas of deprivation aren't specifically targeted by operators to exploit those more likely to gamble because they are short of funds".
Ms O'Mara added: "This isn't a problem unique to Greenwich and we urge the government to make a sensible decision and to change the law so applications for new betting shops can be fully and democratically scrutinised."
In a statement the Association of British Bookmakers said: "We would like to reassure Greenwich Council that the betting sector does not target deprived areas.
"Like any other retailer, a bookmaker considers demand, footfall, rates and competitor presence when it is looking at opening up a new shop on the high street.
"The industry remains committed to responsible gambling and that's why the ABB recently announced new harm minimisation measures which will provide mandatory time and money alerts to all customers playing gaming machines and enable them to set voluntary limits on any money and time spent on these machines."
Previously, the concentration of betting shops have been highlighted in areas like Southwark, which has 77 betting shops in the borough, London's Chinatown which had nine premises and in Tottenham where there were 11 shops in Tottenham High Road.
Newham has also voiced concerns as it has 80 betting shops in the borough, with 18 in High Street North alone.