Metropolitan Police staff to strike on New Year's Eve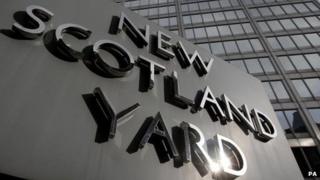 Thousands of Metropolitan Police civilian staff, including 999 call handlers, are to go on strike on New Year's Eve.
The Public and Commercial Services (PCS) Union said about 7,500 of its members were to walk out in a dispute over a 1% pay rise.
The Met has cancelled leave for officers to cope with one of the busiest days of the year for the force.
It said in the event of a strike essential services would continue.
The civilian workers include police and community support officers, 999 call handlers and detention officers in custody suites.
Leave cancelled
Kim Hendry, from the PCS union, said: "Police staff feel undervalued and underpaid. We have members forced to take second jobs, or use pay day loans, just to keep afloat.
"Our demands are entirely reasonable - last year the Met saved over £50m on the police staff budget due to job cuts. Just some of that money should be used to fund a decent pay rise."
A Met Police spokesman said the 1% rise was at the maximum of the government's public sector pay policy and the PCS union's demands included a pay increase of up to 6% which it cannot afford.
The spokesman said the force stopped taking leave requests and has had to "take the very difficult decision to cancel planned days off for officers with certain critical skills or in critical operational areas".
He added: "These are clearly all steps we'd rather not take, but we have to be prepared to maintain critical operational areas in the event of a strike action by police staff, and we are confident that we have appropriate plans in place."