Boat Race protester Trenton Oldfield: Home Office deportation bid criticised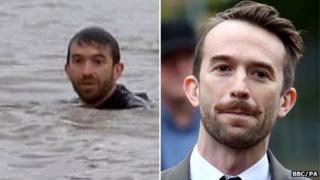 A judge has criticised the government for trying to deport an Australian who disrupted last year's University Boat Race by swimming in front of the crews.
Following a six-month jail term for causing a public nuisance, the Home Office told Trenton Oldfield, 37, his presence was "undesirable".
Judge Kevin Moore said the deportation decision appeared to be exclusively due to one incident and granted his appeal.
The Home Office said it was disappointed by the ruling.
Mr Oldfield interrupted the 158th Boat Race between Oxford and Cambridge in April last year.
Elitism and inequality
He said his actions were a protest against elitism and inequality.
He was jailed in October last year and served seven weeks before being released on an electronic tag. In June, Mr Oldfield was told he must leave the UK.
Following an immigration tribunal hearing earlier this month, Judge Moore said Mr Oldfield could remain in the UK.
In his written judgment, which has just been released, he said: "The respondent [the Home Office] does not appear to have taken into account that the singular basis, namely one of protest, and that in normal circumstances there is a public interest in providing a platform for protest at both common law and the European Convention on Human Rights".
Media attention
He added that the Home Office, "should have made a fair, proportionate and balanced decision, taking into account the character of the appellant and his contribution to society, and it does not appear that this has happened.
"It would appear that the decision is based exclusively on this one incident which had attracted huge amounts of publicity and media attention."
The tribunal was handed a petition with signatures from 265 Cambridge and Oxford staff and students who did not want Mr Oldfield to be deported.
Representing Mr Oldfield, Stephanie Harrison QC said her client's good work in the community outweighed the one protest incident.
Mr Oldfield also told the tribunal that if he was forced to leave the UK he could not take his wife, Deepa Naik, who is of Indian descent, or his daughter back with him because Australians were "passive aggressive" racists.
Judge Moore said this was not a factor in making his decision, however.
A Home Office spokesman said it was considering appealing against the decision, adding: "Those who come to the UK must abide by our laws.
"We had refused this individual leave to remain because we did not believe his presence in this country was conducive to the public good."