DLR staff to be balloted for strike over pay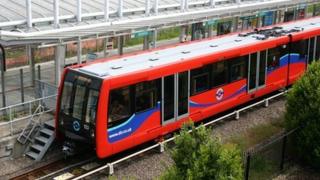 Workers on the Docklands Light Railway (DLR) are to be balloted for proposed strike action in a row over pay.
The Rail, Maritime and Transport (RMT) union said operator Serco Docklands had stalled talks over pay in 2014 and had used contract staff to "undermine jobs and conditions".
The firm said it was working on a pay deal and the ballot was unnecessary.
Staff will be balloted between 30 December and 16 January for industrial action.
'Cavalier abuse'
The RMT also accused the company of abusing disciplinary and attendance procedures and failing to train and develop staff, therefore "limiting staff opportunities".
General secretary Bob Crow said: "RMT will not tolerate the cavalier abuse of procedures, agreements and pay negotiations which has led to the complete breakdown of industrial relations on this vital section of the London transport operation."
Kevin Thomas, managing director of Serco Docklands, said: "We continue to meet with the union to agree a pay deal for 2014 and we are actively investigating the other issues they have recently raised.
"This action is unnecessary and we are working to ensure we continue to deliver a normal and reliable service to DLR passengers every day."