Thousands expected to visit Christmas homeless centres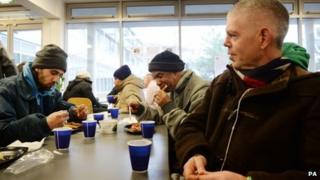 More than 4,000 vulnerable people are expected to visit Crisis centres over Christmas, the charity said.
Crisis has opened centres in London, Newcastle and Edinburgh, for the festive period.
It says young people are most at risk, with the number of under-25s sleeping rough in London, for example, more than doubled in three years.
New research from Crisis suggests eight per cent of under-25s have experienced homelessness in England, since 2008.
The report, carried out by Heriot-Watt University and the University of York for the charity, suggested there was an upward trend of "visible" forms of homelessness over the last year, including rough sleeping, but the pace of the increase had slowed.
Shut Out campaign
"We have a whole generation being shut out," Leslie Morphy, chief executive of Crisis, said.
"Many cannot even find a room to rent.
"We must stop young lives being devastated by homelessness by changing the way housing benefit is calculated for young people so they can actually afford a home."
In 2012 rough sleeping in England rose six per cent compared with 23 per cent in 2011, the report said.
The charity has also launched the Shut Out Campaign, an initiative prompted by a combination of high rents, low benefits and a lack of decent housing leading to more young people becoming homeless, it said.
Tony Finney lost his job last year and within a month he was sleeping rough, having been unable to pay his rent.
"[Crisis] gave me a sense of worth and being a real sense of purpose again, as I was really feeling down," he said.
"You were able to get your hair cut, see a dentist and a doctor."
'Give something back'
Mr Finney now lives in a shared house in east London and has chosen to volunteer at one of the Crisis centres on Christmas day.
"I feel I want to give something back," he said.
"There needs to be a voice coming from me who has had the experience of being homeless to be able to say come on there is hope out there, but you need to seek the services."
Ten Crisis at Christmas centres will be open across the capital until 30 December, while the Edinburgh centre will open on Christmas Day and the Newcastle centre will open on Christmas Day and Boxing Day.
Around 9,000 volunteers will be offering entertainment, food and companionship at the centres.