Arsema Dawit death: Date set for full inquest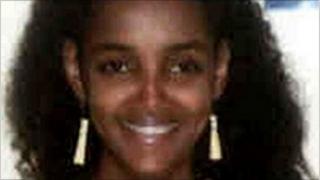 The inquest into the death of a teenage girl who was killed by her ex-boyfriend is to take place six years after she died.
Arsema Dawit, 15, was stabbed more than 30 times in Waterloo, central London, by Thomas Nugusse in June 2008.
Nugusse, 22, confessed but he could not be tried after suffering brain damage in a suicide attempt in prison.
Solicitors for Arsema's family said the hearing has been listed for September, and is due to last for four weeks.
The teenager's mother, Tsehaynesh Medihani, won a High Court case in April 2012 for a full inquest.
'Organisational failings'
At the time, a judge ruled that because of threats to Arsema made by Nugusse a coroner was wrong to decide against a full inquest.
Ms Medihani , who brought the case after a coroner refused to hold a full inquest in 2009, hopes the hearing will shed new light on failings by the police which the family claim led to her daughter's death.
In 2009, an Old Bailey jury was not permitted to return conventional innocent or guilty verdicts and instead found that Nugusse had "committed the acts".
He was given an indefinite hospital order.
Arsema had complained to police that Nugusse had threatened to kill her, a report by the police watchdog the Independent Police Complaints Commission (IPCC) found.
In 2010, the IPCC reported on "collective and organisational failings" because police had failed to act on an allegation by Arsema that Nugusse threatened to kill her five weeks prior to her killing.
But the report also said that although more could have been done to save her, no-one was to blame for the death.
A Metropolitan Police spokesman said in response to the report: "This murder was a tragic loss to this family and the MPS offers its condolences to the Dawit family for the death of their daughter Arsema.
"We welcome the recommendations from the IPCC and have incorporated the learning into our development programme."