London transport fare rise delayed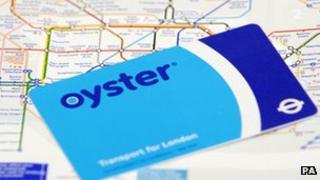 The rise in transport fares in the capital will come into effect more than two weeks later than planned after an issue with the price of travelcards.
Mayor Boris Johnson had said season tickets on travelcards would go up by 4.1%, retail price index + 1%, but after the Chancellor capped fares at RPI, the rise had to be capped at 3.1%.
Transport for London claimed the delay could cost £14m in lost revenue.
The delay has been criticised as a "farcical" failure of communication.
The expected average fare rise by 3.1% on the capital's transport was due to come into effect on 3 January, but now it appears TfL is working towards implementing it on 19 January.
'Hole' in budget
Mr Johnson unveiled the rise in fares on 3 December but on 5 December George Osborne announced he would limit national rail fare rise to RPI, rather than the expected additional 1%.
The mayor had to subsequently bring the rise in fares in line with the new government's plan.
The chair of Budget Monitoring Sub-Committee at the London Assembly, Labour Assembly Member John Biggs said: "It is farcical that what appears to be a lack of communication between the Chancellor and the Mayor has resulted in TfL being unable to implement the planned fare rises.
"While this will bring a few weeks relief to Londoners in the new year, it will leave a hole in TfL's budget, one which the Mayor said fares needed to increase to fill."