Nigella Lawson PA denies being 'shopaholic and fantasist'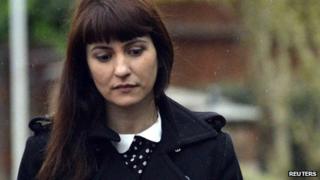 A former personal assistant accused of defrauding Charles Saatchi and Nigella Lawson has denied she is a "shopaholic" and a "fantasist".
Francesca Grillo, 35, said she "would have to disagree" with how the TV cook had described her.
She and sister Elisabetta, 41, are alleged to have spent £685,000 on credit cards belonging to the couple.
Isleworth Crown Court has heard the siblings, who deny the charges, bought designer clothes and luxury holidays.
Prosecutor Jane Carpenter said the younger sister had lied when she said her spending on a work credit card was authorised by Mr Saatchi and Ms Lawson.
"I haven't lied to this court," she said.
"I don't think I'm a fantasist as Ms Lawson suggested. I would have to disagree."
Ms Carpenter said the 35-year-old had admitted being a "shopaholic" in a phone call after the allegations of fraud came to light.
"I don't think so," Ms Grillo said.
'Bolder and greedier'
Making her closing statement, Ms Carpenter reminded the jury that it was the sisters facing the charges.
"It might have seemed at times that other people were on trial," she told them, adding that she was referring to Mr Saatchi and Ms Lawson.
She said it was "utter nonsense" that the now divorced couple would authorise the Grillos' alleged level of personal expenditure.
The prosecutor said the sisters were "spending more as time passed [and] as they grew bolder and greedier".
Ms Carpenter said it was a feature of the defence that the Grillo sisters were "part of the family [and] were entitled to spend in the same way the family did".
"That, you must appreciate, is utter rubbish and cannot possibly have been the case," she said.
Defence counsel Anthony Metzer QC, for Elisabetta, told the jury that his client was "caught in collateral cross-fire" as Mr Saatchi used the trial to attack his ex-wife and Ms Grillo was "a soft underbelly for attacking Ms Lawson".
"Could it be Mr Saatchi was using this as a way to attack Ms Lawson by proxy?
"As his relationship with Ms Lawson started to unravel and he lost control of her, he looked for a place to put his hurt and anger.
"The extravagant way Ms Lawson kept her family in his money was now a legitimate place for him to exert his feelings," the barrister said.
'No winners'
Mr Metzer added that the TV cook had "carefully honed" her evidence as she was forced to face allegations of "sustained drug use".
And the verdict will "be of significance to Ms Lawson and her public image".
"This is a case with no winners. Not Mr Saatchi, not Ms Lawson and certainly not my client, who is alleged to have breached the trust placed in her by a family she loved and still loves," he added.
The Grillos, of Kensington Gardens Square, Bayswater, west London, each deny a single count of committing fraud by using a company credit card for personal gain between 1 January 2008 and 31 December last year.
The case continues.