London 2012 regeneration has '£9m funding gap'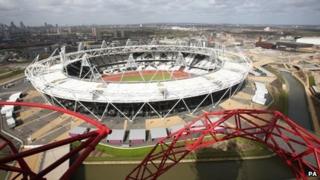 A report has warned that more money is needed to achieve the legacy objectives of the London 2012 Olympic Games.
The London Assembly said a funding gap of around £9m in 2015-16 could limit regeneration plans at the Queen Elizabeth Olympic Park, in east London.
The London Legacy Development Corporation (LLDC) said it would have to increase its income or cut spending to reach its objectives.
Assembly member Gareth Bacon said the legacy was "crucial".
The report from the London Assembly's Regeneration Committee found that reducing expenditure on security and some community events was "not ideal" when the park wanted to attract people to the area.
'Self sustaining'
The committee has recommended the mayor of London confirms the LLDC will receive at least £12m in additional funding between 2015 and 2017.
Assembly member Gareth Bacon said: "Regenerating east London and the Lower Lea Valley is important not just to meet the London 2012 legacy objectives, but for the benefit of the people of east London who will be a crucial part of building the community for years to come.
"We believe in the short term the mayor should continue to invest and support the LLDC.
However, to ensure the LLDC's objectives are not dependant on mayoral funding indefinitely, the Corporation should commit to becoming self-sustaining as soon as possible and certainly by 2020 at the latest."
The report also recommended LLDC work towards its 35% affordable housing targets for the East Wick and Sweetwater residential neighbourhoods.
An agreement with Transport of London for new links between the Park and surrounding areas should be secured within 12 months, the report also said.