East London NHS trust put in special measures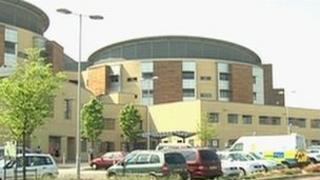 An NHS trust in east London has been put in special measures after concerns about "unsafe" patient care in its accident and emergency departments.
Barking, Havering and Redbridge University Hospitals NHS Trust has been flagged as high risk in a series of inspections and reports.
The NHS Trust Development Authority put the trust into special measures.
The trust runs two hospitals, Queen's Hospital in Romford and King George Hospital in Redbridge.
The NHS Trust Development Authority, which offers support to trusts, acted after recommendations from Professor Sir Mike Richards, the chief inspector of hospitals for the Care Quality Commission (CQC).
Prof Richards said the trust had shown it could make positive changes, but it was "very disappointing" they had not been replicated throughout the organisation.
'Patient safety issues'
"The long-standing issues in the two A&E departments are clearly affecting patients - and all attempts to address these problems over the last few years have had insufficient impact," he said.
"While we understand that this trust serves a large and diverse population, and that the leadership team is trying to resolve the issues, it's clear to us the trust is unable to do so without help."
A report by the CQC in October said the trust was working to make improvements, but it still provided "unsafe care" in its accident and emergency department and "needs to urgently focus" on resolving these issues.
The report said: "There is an over-reliance on locum doctors with long waiting times for patients to be assessed and reassessed.
"Delays in specialist doctors seeing patients in the A&E departments are also impacting on patient safety."
The trust must now publish an improvement plan on the action it will take, and an improvement director will be appointed while a comprehensive leadership review takes place.
NHS trust development authority director Alwen Williams said: "This is a disappointing report, both for the trust and the patients it serves.
"Our priority is making sure the trust is able to rapidly improve the care it provides."
Margaret Hodge, Labour MP for Barking, said she found it "really disappointing and very depressing" that the A&E had not been turned around.
She said one in five people find they have to wait more than four hours and out of 18 consultant posts only seven were filled by full-time consultants.
She added: "It means they are dependent on locums coming in who don't know what they're doing, don't know the systems, don't know the people, provide a worse service and cost much more money."