Nigella Lawson had powder-covered banknotes in handbag, PA claims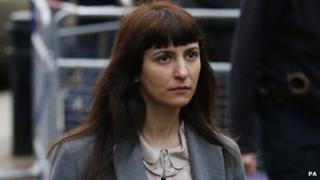 A former personal assistant accused of defrauding Charles Saatchi and Nigella Lawson has said she regularly found rolled-up bank notes with white powder on them in the TV chef's handbags.
Francesca Grillo, 35, told Isleworth Crown Court she also found evidence of cannabis being smoked in the couple's house.
Ms Lawson has denied being an addict or having a drug problem.
Francesca and her sister Elisabetta Grillo, 41, deny fraud.
While stating she had never seen Ms Lawson taking drugs, Francesca Grillo told the court she first saw rolled-up notes in the cook's home following a party.
She said part of her duties was to transfer items between her employer's handbags and she would find rolled-up notes inside.
When questioned about how many times it had happened, she replied: "Frequently. Every time I went through her handbag there was some notes. It was very frequent."
Ms Grillo told the court that one of the couple's children found a hollowed-out book containing white powder which belonged to Ms Lawson.
When asked if she had ever asked Ms Lawson about drugs, Ms Grillo replied: "No. I didn't think it was my place."
'Too white for makeup'
Ms Grillo also alleged that Ms Lawson would sometimes come downstairs with white powder on her nose and she would point it out to her, but the food writer would say it was make-up.
When questioned by the defence counsel Karina Arden if the substance could have been a cosmetic Ms Grillo said it was "too white to be make-up".
She told the jury that Ms Lawson often had a runny nose.
The court heard that Mr Saatchi and Ms Lawson's children informed Ms Grillo that the TV chef smoked cannabis with them when she could not sleep.
The former personal assistant also said that she found cannabis in a child's room at the couple's home and that Ms Lawson would regularly drink from bottles of liquid medication.
"Tazepam, Xanax... Ms Lawson had medication for depression," said Ms Grillo.
"She would take it directly from the bottle."
'Picking her nose'
She said she did not mention the alleged drug use until photos emerged of Mr Saatchi grasping Ms Lawson by the neck at a London restaurant.
"The one that stuck in my mind was the one of him picking her nose. Maybe he found something relating to drugs," she said.
She added that she thought if Mr Saatchi did not know about his wife's drug use then "he probably didn't know about the authorisation" by Ms Lawson of the sisters' personal spending.
Ms Grillo said Mr Saatchi asked to see her in July after his financial director Rahul Gajjar confronted her and Elisabetta with credit card statements.
The previous day, Mr Gajjar had asked the sisters to sign a letter admitting dishonesty and promising to continue working for the celebrity couple for a reduced salary for an unlimited period of time.
When they chose not to, Mr Saatchi said he would "destroy" the sisters, Ms Grillo said.
She said he told her: "Hide anywhere in Italy but I will find you and destroy you. You don't cross Charles Saatchi, everyone knows that."
'Protect them'
Francesca Grillo and her sister Elisabetta, of Kensington Gardens Square, Bayswater, west London, deny charges of of defrauding their former employers by spending £685,000 on credit cards belonging to them.
Francesca previously told the court she had been given a company credit card and was allowed to use it to buy items for herself, with the authorisation of her employees.
Prosecutor Jane Carpenter said she took out £111,000 in cash between 2008 and 2012 which was not authorised by Mr Saatchi and Ms Lawson.
The court heard details of clothing purchased by Ms Grillo and many overseas trips made by the PA to destinations including Paris, New York and Amsterdam, staying at top hotels and shopping in designer stores.
On a four-day trip to New York she was accused of spending around £8,000 on herself which was not authorised.
Ms Carpenter also claimed Ms Grillo wrote to Ms Lawson only to avoid being charged.
But the defendant told the court the proceedings "bring things that perhaps some people don't want to say".
"I was trying to protect them, not to be headliners," she added.
The trial continues.