Saatchi 'gave PA card to buy whatever she wanted'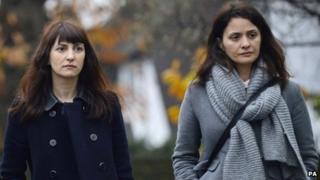 A former personal assistant accused of defrauding Charles Saatchi and Nigella Lawson has said she was given a bank card to "buy whatever I wanted".
Francesca Grillo, 35, told Isleworth Crown Court the bank card was used to withdraw her salary.
"I was never given strict rules. Charles just said, 'there is your card'," she said.
Francesca and her sister Elisabetta Grillo, 41, both deny fraudulently using credit cards.
"I would live in the annex of the house. I was told to buy whatever I wanted with that card," Ms Grillo said.
"I have never had a contract of employment. That arrangement lasted for four years until I was put on the pay roll."
'Beyond loyalty'
Ms Grillo told the court the card was also used to buy essentials for the family, as her role involved housekeeping, shopping and cooking meals.
She said her relationship with her former employers went "beyond loyalty" and she did everything she could to please them.
"When something like this is happening, you don't stop loving them," she said.
"You're disappointed, but you don't stop loving them. I never stopped loving Charles or Nigella or the children."
Ms Grillo denied booking taxis on the family's account was a secret and said she was allowed to order one whenever she needed to.
The court also heard that Ms Grillo was responsible for giving money to the couple's children, which was often up to £80 to each child five days a week. She said it was common for the children to pay for their friends if they went out for dinner.
'Treat yourself'
Ms Lawson was "very appreciative" of Ms Grillo's loyalty and told her to "treat yourself" if she saw an item she liked, she told the court.
"She bought me presents, she let me get holidays, she paid for some of my holidays," Ms Grillo said.
The court heard that the former PA once bought herself a Chanel bag with her work credit card after Ms Lawson said that was "fine", as it was a thank you gift.
In her role managing the household Ms Grillo also withdrew money to pay cleaners, handymen and gardeners, which included cleaning the family's collection of silver at a cost of £400 twice a month.
The defendants are accused of spending £685,000 on credit cards belonging to the celebrity couple to buy designer goods and luxury holidays.
The defence argues Ms Lawson consented to the PAs spending as they were "intimately connected to her private life and were aware of the drug use which she wanted to keep from her then-husband Charles Saatchi".
Nigella Lawson has denied having a drugs problem.
'Career suicide'
Earlier another woman who worked for Mr Saatchi said she was "committing career suicide" by giving evidence in support of the PAs.
Sharrine Scholtz, a former financial assistant, said she had been accused of using a company taxi account without authorisation and forced to sign a gagging clause when she left her job.
Miss Scholtz told the court she was forced to leave her job and sign a compromise agreement after setting up her own gallery.
She said: "I have everything to lose by standing up here and nothing to gain."
She said she was "committing career suicide by speaking up" but insisted: "I'm here to speak the truth".
"Anyone who speaks up against the Saatchi Gallery black marks themselves from working for anybody else in the art world," she said.
She said if she had not signed a gagging clause when leaving her job she feared "perhaps I would be standing here instead of Elisabetta and Francesca".
Anthony Metzer QC, defending Elisabetta Grillo, asked Miss Scholtz if members of staff were able to spend on designer goods.
She replied: "As far as I was aware, they were authorised by Nigella and Saatchi. It would come under staff welfare."
The trial continues.