Duck tour passengers 'should wear life jackets'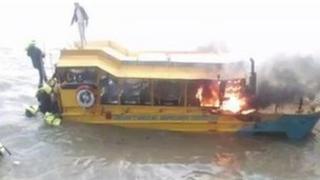 Passengers on amphibious landing craft used for tourist sailings should wear life jackets, a report has recommended.
The London Assembly report said lessons need to be learnt from a fire on a Duck tourist boat on the River Thames.
The crew and all 28 passengers were safely recovered from the river on 29 September.
Assembly Member Victoria Borwick said the fire should remind tour operators that the highest standards of safety "must be their number one priority".
Following the fire, Duck boat tours on the River Thames were suspended.
Evacuation testing
The report, Safety on Board, by the Thames Passenger Boat Investigation Committee said that although the response to the fire by the emergency services was prompt and effective there were concerns "that some lessons do need to be learned to safeguard against future problems."
London Ducks Tours, which operated the vessel, told the committee it was company policy that life jackets were not worn on tours. The report is calling on London Duck Tours to consider whether there is a case for passengers to wear life jackets.
"The Thames is a fantastic resource for London and it is important the reputation of the river is not undermined by this rare incident," said Ms Borwick.
"The fire on board the DUKW Cleopatra should act as a reminder to all Thames river craft operators that maintaining the highest standards of safety, including equipment and staff training, must be their number one priority."
The committee also recommended that London Duck Tours and the Maritime and Coastguard Agency should ensure that crews on tour boats are regularly tested on evacuation procedures.
Tour employees should also be trained on using the correct distress calls in emergency situations, the committee said.
The London incident followed the sinking of a similar vessel, the Wacker Quaker 1 in Salthouse Dock, Liverpool, on 15 June. All 31 passengers and two crewmen were safely recovered from the water, with no serious injuries.
A Marine Accident Investigation Branch report into the two incidents blamed both accidents on problems with the buoyancy foam.
It recommended that tourist vessels of this kind, known as DUKWs, should not operate until the buoyancy problem was sorted out.