Man died in north London blaze during firefighters' strike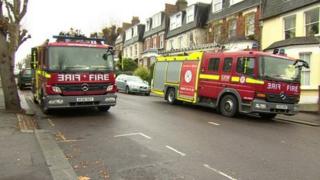 A man has died in a blaze in north London that broke out as firefighters took strike action over pensions.
Crews were called to a ground-floor flat in Oakfield Road, Hornsey, just before 22:00 GMT on Saturday.
About a dozen firefighters tackled the blaze for more than an hour before they found the man's body.
The London Fire Brigade said: "Based on early investigations into this death, it is not believed that the strike made any difference to the outcome."
'Failed disastrously'
Fire Brigades Union (FBU) members walked out for four hours at 18:00 GMT. It was the second consecutive evening they had taken industrial action.
They are opposed to government plans to raise the retirement age from 55 to 60 and changes to their pensions.
The London branch of the FBU tweeted just after midnight: "Information coming in which suggests the London Fire Brigade's contingency plans failed disastrously tonight."
But a London Fire Brigade spokesman said neither the contingency fire crews nor the LFB's own crews, had they not been on strike, could have reached the man in time to rescue him.
A Metropolitan Police spokesman said the force was not treating the death as suspicious.