Hampstead Heath sex attacker Lee Cyrus jailed for life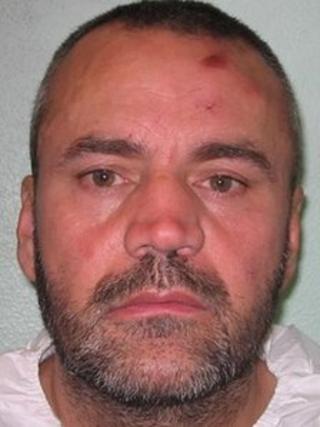 A man convicted of a series of sex attacks in north London while on the run from prison has been jailed for life.
Lee Cyrus, 48, from Preston, absconded from North Sea Camp open prison in Boston on 9 October last year.
He carried out 11 attacks, targeting women in the Hampstead Heath area, before being caught two months later.
Cyrus, also known as Ivan Leach, was ordered to serve a minimum of 11 years in prison, at Southwark Crown Court.
He was found guilty of offences including indecent exposure, robbery and wounding with intent.
Cyrus stalked and terrorised women, the Metropolitan Police said. On many occasions he was armed with a knife and wore a black balaclava.
'Horrific attacks'
The Met described Cyrus as a forensically aware "predator" who relied on the "utmost cowardly approach in selecting victims", picking lone women in open spaces or in their homes.
Acting Det Supt Raffaele D'Orsi said: "It will take a significant length of time for the victims who suffered at the hands of Lee Cyrus to come to terms with the horrific attacks he committed on them."
Among his offences, Cyrus indecently exposed himself to a 53-year-old woman and a 62-year-old woman at Boston Cemetery, Lincolnshire, in September 2012 while still a serving prisoner on day release.
Several crimes of indecent exposure took place in the Hampstead Heath within weeks of him going on the run, the court was told.
The offences also increased in seriousness, graduating to violent attacks on elderly women alone in their own homes.
Cyrus was also convicted of two counts of causing grievous bodily harm in November 2012. In one of these assaults, Cyrus hit a 61-year-old woman with a metal bar across the face.