QPR announce plans for new 40,000-seater stadium at Old Oak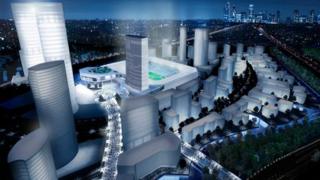 Queens Park Rangers have unveiled plans for a new stadium in north-west London.
The proposed 40,000-seat building in Old Oak will replace the club's current Loftus Road ground, in Shepherds Bush.
The stadium will be part of a regeneration of the area, which is provisionally called New Queens Park.
"Loftus Road is - and always will be - a special place for the club and our supporters, but we need more than an 18,000 capacity," QPR chairman Tony Fernandes said.
"With no option of expanding here, we have to look elsewhere and we welcome the Mayor's and Hammersmith & Fulham Council's commitment to regenerate the area.
"Not only will this give us a top-quality stadium to cater for QPR's needs as the club progresses and grows over the years ahead, but we are very excited about being the driving force behind creating one of the best new urban places in the world."
The plans include a residential area with 24,000 new homes and a commercial space which will include a 350-room luxury hotel, studios, offices, cinemas and restaurants.
The regeneration is expected to generate 50,000 jobs.
Chief executive Philip Beard wants the new ground to retain some of the characteristics of Loftus Road.
He said: "We will look to build a stadium QPR fans and local residents can be proud of.
"Loftus Road is renowned for its atmosphere and with the help of our supporters, replicating that at our new stadium will be one of our top priorities."
Fernandes completed his takeover of the club, who were relegated to the Championship last season, in August 2011.
He first revealed the club were looking at alternative sites to Loftus Road in West London in November 2011 and Rangers confirmed they were in talks about the Old Oak site since August.
Antony Spencer, who is developing the masterplan for the project along with Sir Terry Farrell, said the area will be a "vibrant" development.
"We are talking to a number of world-class architects to design iconic tall buildings akin to New York, the Far East and London's finest, as well as improving and incorporating the waterside environment of the Grand Union Canal."
He added: "We are now in a position to forge ahead as we have secured strategic land holdings in excess of 100 acres. We are confident of securing a planning permission by early 2015 and starting development shortly afterwards."
QPR is working with the Greater London Authority (GLA) and Hammersmith and Fulham Council on the plans, which need planning approval.
As part of the proposed redevelopment scheme, Old Oak is to be the main hub station in the capital for the HS2 high-speed rail project.
The GLA recently consulted residents on the plan for Old Oak, which it says will improve the local economy and see thousands of homes built.
If plans do go ahead, the area would be redeveloped by 2043, with the station open in 2026.