PM's Nigella Lawson comments: Ignore them, says judge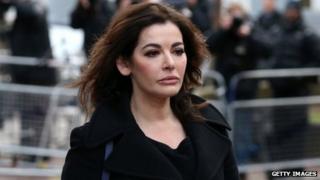 The jury in the trial of two former personal assistants of Nigella Lawson and Charles Saatchi has been told to ignore complimentary remarks made about the TV cook by the prime minister.
Judge Robin Johnson said it was a "matter of regret" when public figures commented on someone during a trial.
The judge said David Cameron had made comments in a magazine interview that could be "favourable to Ms Lawson".
Former PAs Francesca and Elisabetta Grillo, who are sisters, deny fraud.
'Massive fan'
Giving evidence for the first time in the trial earlier on Thursday, Elisabetta Grillo told the court she had seen repeated evidence of drug-taking while working for Ms Lawson, but never actually witnessed the TV cook taking drugs.
Referring to the judge's remarks to the jury, BBC correspondent Angus Crawford, who was in Isleworth Crown Court, said he had effectively "ticked off" the prime minister.
Judge Johnson warned the jurors at Isleworth Crown Court to decide the case only on the evidence presented in court.
He said: "You will realise that what public figures may feel about this case or a witness in this case can have no bearing on your own views."
In an interview Mr Cameron told the Spectator magazine he was a "massive fan" of the TV cook, adding that he found her "very funny and warm".
When asked if he was on "Team Nigella", the prime minister replied: "I am."
Downing Street declined to comment, but a source said Mr Cameron was asked during the interview about Ms Lawson - not about the court case - and gave an answer saying he was a fan of her cooking.
"There was never any intention to have an impact on the court case," the source said.
The jury heard that the defendants felt "aggrieved" by Mr Cameron's comments, even though they did not specifically deal with matters in the trial.
Giving evidence for the first time at the trial, 41-year-old Elisabetta Grillo said she had seen evidence of regular drug use in the home Ms Lawson she shared with her first husband John Diamond.
'Rolled-up banknotes'
The court heard that Ms Grillo had found a packet of white powder in a toilet, rolled-up banknotes and credit cards with white powder on them.
Ms Grillo said she had never actually seen the 53-year-old TV chef use drugs and had never confronted her employer about what she had witnessed.
She said she thought Ms Lawson knew that she knew about her drug-taking, but added: "I did not want to embarrass myself and her."
The sisters are accused of abusing their positions by spending £685,000 on credit cards given to them by the couple on themselves.
The Grillos' defence team has claimed that the pair, of Kensington Square Gardens, Bayswater, were given permission to use the business cards by Ms Lawson to cover for her use of drugs.
'Up and down'
During her evidence earlier in the trial, Ms Lawson admitted using cocaine a handful of times with her first husband Mr Diamond when he was dying and once in 2010 while going through a difficult time in her marriage to Mr Saatchi.
She also said she smoked cannabis during the last year of her marriage to the 70-year-old businessman and art dealer, however she denied having a drug problem or being an addict.
In court on Thursday, barrister Anthony Metzer QC asked Elisabetta Grillo if she thought Ms Lawson's admission that she took cocaine with Mr Diamond but never again until 2010 was true.
She replied: "No", adding "I know I saw more stuff before that."
Ms Grillo told the court she saw evidence of drug use "every three days, something like that".
She added that Ms Lawson could at times be "mean" and her moods were "very up and down".
Ms Grillo said she felt surprised when she was accused of fraud.
"I was in shock because I still think I did nothing bad," she told the court.
She also said that Mr Saatchi would shout at her because her English was not that good, which made her "scared what to say".
The court also heard that Ms Lawson told the former PA she felt like she was "being kept in a gold cage" by Mr Saatchi.
"She couldn't go out like normal people for a birthday because Charles wanted her there," Ms Grillo said.
The trial continues.