The risk Barclays took with Boris Johnson's bikes-for-hire scheme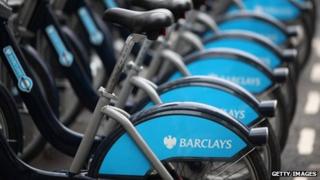 Boris Johnson always defended the Barclays sponsorship deal that he brokered for the cycle hire and superhighway projects on two key grounds.
He claimed no-one else had come up with an offer to match, and the bank was taking a big reputational risk associating itself with a project which might not work out.
As we first reported in 2011, the first claim was made less credible by the fact there had been no transparent competitive process governing the award of the sponsorship contract.
The deal grew out of a conversation at a social occasion between the mayor and Barclays chairman Marcus Agius, and was given momentum by Mr Johnson's close relationship with the then chief executive Bob Diamond, the main trustee of his City Hall charitable fund launched on his election in 2008.
As to the second claim, many observers certainly believed he had a point. It is not uncommon for "launch" sponsors to be offered a good deal to account for the associated risks that things could go badly wrong.
Bike vandalism
And there was no guarantee - as the mayor never tired of saying - that one of the more immediate and regrettable features of his 2010 "year of cycling" could have been dozens of Barclays-branded bikes being chucked into the Thames.
Just as, so he claimed, Parisians had once discarded their own bikes in the Seine.
Except, of course, that this was a scheme which had been worked on by one of the most respected city transport authorities in the world - learning and building on the experience of others. With rather a lot of political capital riding on it too.
Barclays' decision to pull out of the sponsorship pact in 2015 is surprising, given the good deal it was getting from the mobile-branding deployed across the capital. Less than £5m a year, a small percentage of its corporate social responsibility budget, let alone the collective bonuses of its senior management.
But the decision seems eminently comprehensible, if brutally realistic, when you consider the full picture. For things apparently could only get worse.
Since the heady days of 2010 - and given a brief injection of life during the Olympics in 2012 - the bike hire scheme itself has run into problems. Charges went up, ridership has gone down. Extension eastwards has not led to a commensurate rise in cycling. Complaints are up. It's been an increasing challenge for contractors Serco to get bikes to the right place at the right time. Extension westwards is delayed.
Series of deaths
And then came the recent series of fatalities which - following on from the inquests into deaths two years previously - focused highly unwelcome attention on the blue paint of the cycle superhighways - and superhighway 2 in East London in particular.
It must remain a matter of speculation as to how much recent developments may have started to worry bank chiefs as they sought to carve out a new identity for the business, and distance themselves from the former regime. A sweetheart deal which seemed good at the time, now turning toxic?
But a couple of things - missed by a recent London Assembly investigation into the sponsorship deal - should be pointed out.
Firstly, although the superhighways bear its name and near-match colour, Barclays money hasn't so far gone towards them. It has been spent only on the cycle hire scheme. Was it only a matter of time before some started wondering aloud who should perhaps be asked to help fund the safety improvements now needed?
Secondly, a legally-agreed opportunity came and went this summer for the mayor to re-negotiate the terms of the original sponsorship deal and seek more money. He decided to pass, apparently content.
It is now the bank which has decided that this is a deal which has run its course.
There is another big question for the mayor to answer, since most assembly members and others can remember Mr Johnson claiming that Barclays had pledged £50m to cycling.
Now, it is clear, there was never any firm agreed plan for the bank to provide this money over these years.
Instead Barclays is to leave the stage having paid less than even the original promise of £25 million.