Saatchi finance director says Nigella PA bills 'not scrutinised'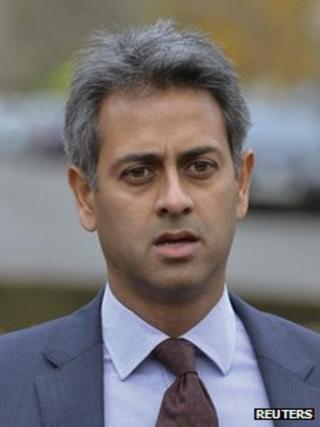 Charles Saatchi's accountant has told a court he did not scrutinise bills for credit cards used by Nigella Lawson's assistants because it was "not my job".
Rahul Gajjar, finance director for Ms Lawson's ex-husband, said his team were "there to look after business" and not to check home-spending.
He was giving evidence at Isleworth Crown Court in the trial of Francesca, 35, and Elisabetta Grillo, 41.
The sisters deny fraudulently using credit cards.
The Grillos' defence has claimed the pair, of Kensington Gardens Square, Bayswater, were given permission to use the business cards by Ms Lawson to cover her use of drugs.
Mr Gajjar told the court Coutts cards were issued to the personal assistants after Mr Saatchi decided to use credit cards for all household spending.
'Cheaper on eBay'
"We would look through the summaries [to] see what the general spending would be, but in terms of the detail we wouldn't get involved in 'what's this [or] that for?'"
Anthony Metzer QC, defending Elizabetta Grillo, asked Mr Gajjar if he would have been concerned if a large sum had been spent.
"If Charles wanted to buy an expensive gift for Nigella, it would not be my job to say 'you could have got it cheaper on eBay'," he said.
When questioned whether Mr Saatchi was aware that the cards were not being scrutinised, he said his employer was "well aware that we have never scrutinised his home expenses".
"It was for the home to consider these expenses," he said.
The court heard there were a few occasions when Francesca's credit card was declined while on holiday, possibly because it had exceeded its limit, and that she sent Mr Gajjur a text message about it.
He said: "There were a few occurrences where we had to raise the limit because previously he [Mr Saatchi] didn't want the card to be stopped when it involved the house and the children."
Asked if he had considered that Francesca was taking cash out on her credit card, he said: "I don't know if I considered cash", but added that Mr Saatchi and Ms Lawson regularly requested bundles of cash for the home.
'Team Cupcake'
An email from the sisters, which begged Ms Lawson and Mr Saatchi for forgiveness, was read out in court.
In it, they said: "We are at our utmost despair and we are reaching out to you in the sincere hope that somewhere in your hearts you will find a way to forgive us and believe that we never meant in any way to be seem to be disloyal or to seem like we took advantage of our positions.
"We truly believe that we had a bond like a family.
"You were, as you often said to us, our English family and we saw you like a mother and father figure in our lives over these 10-14 years that we have known you.
"There is not a worse feeling [than] thinking we have in any way let down our family and we are deeply sorry and full of regret.
"All we want to do is put this right and make amends."
Ms Lawson's personal assistant Anzelle Wasserman then gave evidence. She was asked by Mr Metzer if she was part of "Team Cupcake", a name given to Ms Lawson's supporters.
She replied she was, and had left the family home when Ms Lawson did, following the incident at Scott's restaurant where Mr Saatchi was photographed with his hands around Ms Lawson's neck.
Ms Wasserman told the court she had three bank cards she could use: one credit card linked to Mr Saatchi's business, one linked to Ms Lawson's business, and a debit card which took money from Ms Lawson's account.
The employee said all of the payments she made were on behalf of the couple's children or had been explicitly authorised by Mr Saatchi or Ms Lawson.
She said she had not used the cards to buy food, drinks and entertainment for herself and her friends.
Ms Wasserman said when she was given her credit card, it was clear what the rules were.
She told jurors she was allowed to use it for personal spending, but only on instruction from Mr Saatchi or Ms Lawson for something specific for something like a birthday.
"It was always a specific gift, it was never open-ended, buy yourself a gift. It was specific."
A list of payments made on Ms Wasserman's staff credit card was read out in court. It included:
£2,250 to Shi Cashmere for cashmere jumpers for Ms Lawson from her former husband
£24,866 on flowers for the house
£10,564 on VIP Glastonbury Festival tickets for the couple's children
£28,834 on ticket website Tickets to See
£2,240 at Ralph Lauren
£3,734 to Annabel's private members club for Mr Saatchi's red wine
The case continues.