Indian Lt-Gen Kuldeep Singh Brar attackers jailed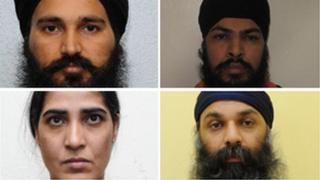 A Sikh gang convicted of slashing a retired Indian general's throat in revenge for a 1984 military offensive has been jailed.
Lieutenant-General Kuldeep Singh Brar, 78, was attacked as he walked with his wife in central London in 2012.
Mandeep Singh Sandhu, of Birmingham, Dilbag Singh and Harjit Kaur, both from London and Barjinder Singh Sangha, of Wolverhampton, were sentenced earlier.
Lt Gen Brar told BBC London they had "got what they deserved".
Sandhu, 34, Singh, 37, and 39-year-old Kaur were convicted of wounding with intent. Sangha, 33, pleaded guilty to the charge.
500 dead
The retired general and his wife, Meena, were on holiday in London and were returning to their hotel in the West End when the attack happened on 30 September 2012, Southwark Crown Court heard.
Following the sentencing, Lt Gen Brar said: "I think they have got what they deserved. It was heinous crime committed by them.
Recalling the "terrible" ordeal, he said he and his wife were "walking happily" when suddenly "hurly burly-looking Sikhs" pounced on them.
"I had to fight back because if I had just given in I think that would have been the end of it.
"Luckily they weren't able to get my throat in the first stab, they got me on the back then they stabbed my cheek and finally one of them was able to slash my throat and I started bleeding heavily."
Lt Gen Brar was involved in Operation Blue Star against Sikh separatists in Amritsar, north-west India, in June 1984.
It left at least 500 people dead and made him the target of anger and revenge attacks.
A group of about 100 protesters demonstrated outside the court calling for the retired military officer to be indicted as a war criminal for his part in the operation at the Golden Temple.
BBC London's Alex Bushill said some protesters said they did not condone the actions of the attackers but they were protesting about Lt Gen Brar.
Sentencing the four attackers, Judge Jeffrey Pegden QC said: "This was a group attack by young men on a 78-year-old man."
The victim "resolutely fought back" and prevented even more serious harm to himself, the judge added.
Assassination attempt
Commenting on the role of Kaur, the judge said she enabled the "ambush" to take place "swiftly and effectively".
Kaur followed the victim and his wife on the day of the attack, keeping her accomplices informed of the target's movements.
When the couple reached Old Quebec Street, Sangha "drew a knife as the other men held the victim", the jury were told.
He was left with a 12-inch cut running across his neck and jaw and another three-inch cut to the jaw.
His protection ranking was raised to the highest possible following the attack.
Commander Richard Walton, head of the Met's counter terrorism command, said: "This was a pre-planned and organised attempt to assassinate General Brar for his military involvement in the siege of the Golden Temple in India in 1984."
Mandeep Singh Sandhu and Dilbag Singh were sentenced to 14 years, Harjit Kaur was jailed for 11 years while Barjinder Singh Sangha received a sentence of 10 years and six months.
Operation Blue Star
The Golden Temple in Amritsar is one of the holiest Sikh shrines and Operation Blue Star was aimed at flushing out Sikh separatists who were sheltering there. Hundreds of civilians were killed during the assault.
The Indian government says 400 people and 87 soldiers were killed in the raid but Sikh groups say the number of casualties was much higher.
Prime Minister Indira Gandhi was subsequently assassinated by her Sikh bodyguards in what was seen as a revenge attack.
Lt-Gen Brar, himself a Sikh, was one of the architects of Operation Blue Star. He has survived several assassination attempts and still receives death threats, the trial heard.
The retired officer said he understood the anger against the raid but added young Sikhs outside India were being "indoctrinated" in extremist thinking.
He also thanked the Met Police for their prompt arrest and conviction of the attackers, adding that India needed to learn a lesson from the UK as it was "hard on terrorism".