Cyclist injuries increase casualty toll on London's roads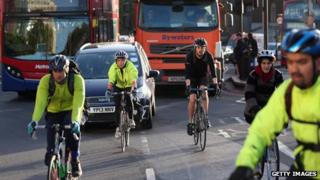 A sharp rise in the number of cyclists hurt in accidents last year increased the overall casualty toll on London's roads for the first time in seven years.
While it has become safer for car and lorry users, motorcyclists and bus passengers to travel in the capital, the number of cyclists and pedestrians who were killed or seriously injured increased, according to figures for 2012.
When collisions and injuries of all severity are taken into account, it is only cyclists where the numbers have risen.
A spokesman for the London Mayor Boris Johnson, who is chairman of Transport for London (TfL), said: "As we said when these figures were first published and reported on, in June, this is precisely why we are investing a billion pounds in a new network of cycle routes, junctions and other safety improvements."
The figures from the Collisions and Casualties on London Roads 2012 Annual Report, the latest available TfL study on road safety, cast doubt on the claims by Mr Johnson that cycling has become safer in London during his time in office.
The report shows that the number of people killed or seriously injured (KSI) in collisions of all kinds on London's roads rose by 8% in 2012 - from 2,805 to 3,018.
Nearly half the increase was attributable to accidents involving cyclists, with the remainder involving pedestrians.
In 2012, the number of people killed or seriously injured while cycling in London rose by 18% - from 571 in 2011 to 671.
Serious casualties among motorists, motorcyclists and bus passengers decreased.
For more than two decades there has been a long-term downward trend in the number of people hurt in collisions on London's roads.
There was a blip in 2005 when the number increased. Some experts believe this was because people changed their travel habits following the 7/7 bombings which targeted the London Underground and bus network.
Last year, the figures started moving in the wrong direction once again - with pedestrians and cyclists feeling the impact.
Six cyclists have died on the capital's roads in the last month, leading to calls for urgent new safety measures.
London's mayor has consistently rejected claims that cycling has become more dangerous, relying on statistics showing there have been fewer fatalities in the last five years than the previous five.
But more statistically significant data - both for total casualty numbers and those seriously injured - suggests the risks have become greater.
And while the mayor points out that the number of people taking to their bikes has increased, some figures suggest there has been a bigger, disproportionate increase in those getting injured in accidents.
Campaigners argue it shows Mr Johnson's roads and traffic-flow policies have been inadequate, and cyclists are taking to unsafe streets.
Analysis of recent TfL data suggests:
The number of cycling casualties of all severity has risen sharply since Mr Johnson became mayor in 2008
The number of cycle journeys has risen steadily, but the biggest surge occurred before his mayoralty
Since the mayor's 2010 "Year of Cycling", the number of serious injuries has risen significantly
Although cycling increased consistently during the first half of the last decade - when Ken Livingstone was mayor - the number of cyclists getting hurt stayed broadly constant.
TfL's 2011 annual collision report shows in 2002-08 there were about 3,000 cycling casualties each year.
But after 2008, when Mr Johnson became mayor, the rate started increasing significantly so that by 2011, there were nearly 5,000 annual casualties. Last year, it went over the 5,000 mark for the first time.
The mayor says what caused this is the popularity of cycling and an unprecedented increase in bike users on the capital's roads.
But a further analysis undertaken for TfL - Travel in London Report 5 - which looks at annual trends raises questions about that.
It shows that over the period 2008-11 the number of annual cycle journeys rose from 179 million to 208 million - a rise of 29 million.
There was a similar increase between 2005 and 2008, under Mr Livingstone, when overall cycling casualty numbers were more or less constant.
Records show the biggest individual surge in cycling happened in 2005 with £22m more journeys.
Under Mr Johnson's mayoralty, the prevalence of accidents in which cyclists have been either killed or seriously injured has risen sharply, from 433 in 2009 to 671 in 2012.
But can that be justified or explained by the greater numbers pedalling on London's streets?
TfL report Pedal Cyclist collisions and casualties in Greater London from 2011 claims cycling was, until three years ago, getting relatively safer.
It suggests that while journeys on the main road network between 2009 and 2010 increased by 15%, the number of cyclists killed or seriously injured rose by 10%.
However, more recent figures suggest it has become statistically more likely that a cyclist will suffer harm on the road.
For instance, while the number of cycle journeys across London rose by just under 6% in 2009-10, the number of those killed or seriously injured increased by 8%.
In 2010-11, journeys rose by under 6% again, yet the number of fatalities and serious injuries was up 22%.
Comparing the number of deaths and serious injuries with the overall number of cycle journeys suggests that the odds of a cyclist coming to grief have shortened from one in 400,000 journeys in 2008, to one in 364,000 in 2011.