Mark Duggan inquest: Jury can consider unlawful killing verdict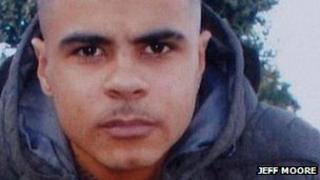 The jury in the inquest into the death of Mark Duggan, who was shot twice by police, has been told it can consider an unlawful killing verdict.
Mr Duggan, 29, was killed in 2011 in Tottenham, north London, after police stopped a taxi he was in.
His death sparked riots in the area which later spread to other parts of England.
Judge Keith Cutler said the jury could decide he was either shot lawfully or unlawfully or return an open verdict.
He said the jury should reach a decision "calmly and coolly on the evidence".
'Beyond reasonable doubt'
The judge said: "This is not a trial, it is not a method of apportioning blame on an individual. It's a public method of establishing facts, and getting to the truth."
He said the jury should consider whether Mr Duggan had a gun, whether a gun was in his hand when he was shot and how a gun came to end up in a grassy area near where he was shot.
Jurors were also told they should consider whether the Metropolitan Police and the Serious Organised Crime Agency did "the best they reasonably could have done" to react to the intelligence that Mr Duggan had a gun.
The judge also asked them to consider whether Mr Duggan was stopped by police in a location in which they could have "minimised recourse to lethal force".
He reminded the jury that in order to reach a conclusion of unlawful killing they must be sure, "beyond all reasonable doubt", that Mr Duggan was unarmed.
He said: "You have to be sure that the act was unlawful, that is that it was not done in lawful self-defence, or the defence of another, or to prevent crime."
He said the "balance of probabilities" standard could be used for the other eventualities.
The inquest has heard police believed Mr Duggan was a leading member of the Tottenham Mandem gang.