University of London gets injunction to ban student protests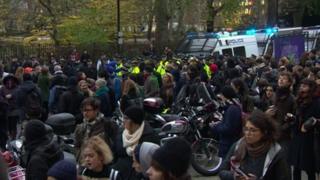 The University of London has taken out an injunction preventing "violent and intimidating" protests on it campuses.
It follows two days of demonstration by students, over the closure of a city students' union and university staff rights, which led to 41 arrests.
They occupied parts of the University of London's HQ at Senate House in Malet Street, Bloomsbury, on Wednesday and protests continued outside on Thursday.
A ULU spokesman described the move "draconian."
The students are calling for better pay and working conditions for outsourced staff at the university.
'Regrettable but necessary'
They are also against a plan to end ULU's role as a political hub for students.
Police said 36 students were arrested on Wednesday and another five the next day.
The injunction bans students from protesting on campus until June next year, but the university did say it would not stop peaceful demonstrations.
Chris Cobb, Chief Operating Officer and University Secretary, said: "This is a regrettable but necessary step that we have taken in order to prevent the type of violent and intimidating behaviour that we have seen by protesters at Senate House recently."
'Hitting people'
ULU president Michael Chessum said: "The university has taken this draconian measure because it has lost the arguments on the issues."
He added further official protests were not planned but it would support students taking further action.
There have been claims from ULU that police were "heavy-handed" with protesters.
Mr Chessum said officers and university security staff were "hitting people and shoving people" who were taking part in a peaceful protest.
The Met Police said officers were called to prevent a breach of peace, and the force had not received any complaints about the actions of officers at the protests.