Mark Duggan inquest: Officer denies planting gun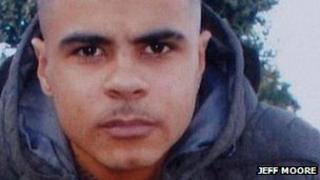 A police officer has told the inquest into Mark Duggan's death the suggestion he planted a gun is "highly offensive".
The witness, identified only as V59, repeatedly said he was not a liar during exchanges with a lawyer representing the Duggan family.
V59 told the Royal Courts of Justice that Mr Duggan had the gun that was found near the scene.
Mr Duggan, 29, was shot dead by police in Tottenham in 2011, sparking riots across England.
'Caught out'
Leslie Thomas, representing the Duggan family, questioned how the police team leader knew there would be a gun on the other side of a fence on Ferry Lane, near to where Mr Duggan had been shot.
"I'm going to suggest to you, V59, that you knew where the gun was before the officers had gone round, because you and all of your colleagues had planted it there," the lawyer said.
V59 replied: "Mr Thomas, I find that highly offensive. No, I did not plant any gun at any scene."
Mr Thomas also suggested that V59 was told his movements were being filmed on CCTV cameras in the area and he had been "caught out".
The officer, who is the final witness in the inquest, denied the claims saying, "I have told no lies".
The inquest continues.