Christian Celestina Mba loses Sunday shifts appeal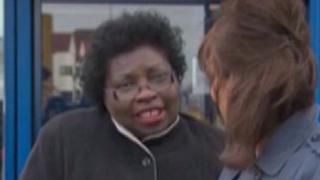 A Christian care worker who claimed she was forced to leave her job after refusing to work Sundays because of her faith has lost her legal appeal.
Celestina Mba, 58, from south London, told Merton Council she was unable to work Sundays before accepting a job.
Ms Mba claims she was later told she had to work full weekend shifts and resigned in 2010.
She took her case to the Court of Appeal after a tribunal ruled that she was not constructively dismissed.
Ms Mba, a Baptist Christian, had argued she should not have to work on Sundays and be free to obey the Fourth Commandment in the Bible - to rest and pray on the Sabbath.
She asked three Court of Appeal judges to overturn the previous employment appeal tribunal decision.
The appeal judges, Lord Justice Maurice Kay, Lord Justice Elias and Lord Justice Vos, ruled the tribunal had to some extent erred in law but said this did not mean that Ms Mba's appeal should be allowed.
Ms Mba said she had made progress in the case as the court had acknowledged that Sunday was a core component in the Christian faith.
She said: "Merton disrespected my Christian faith.
"I said to the court that the council would not treat other faiths like they treat Christians.
"If they really needed someone to work on a Sunday, they should have recruited that person and I would have been glad to leave."
'No viable alternative'
Ms Mba worked with children with severe learning difficulties at Brightwell Respite Care House in Morden for three years.
She had told the tribunal she was prepared to work night shifts and on Saturdays, or to have accepted less pay, to be able to observe Sunday as a day of rest.
However, the council said it had a duty to ensure children had weekend care and there was no viable alternative.
After the hearing, Merton Council leader Stephen Alambritis said: "Children in local authority care who have severe disabilities and who need weekend support, and their families who rely on this support, can feel reassured that their children's care and support will be consistent.
"Wherever possible, we accommodate our employees' needs and requirements."
Andrea Minichiello Williams, from the Christian Legal Centre, which is supporting Ms Mba, said: "Celestina Mba was popular and highly respected amongst colleagues and the children for whom she cared.
"She loved her job and she has paid a high price for her Christian faith."