London Olympic Park culture scheme 'could create 10,000 jobs'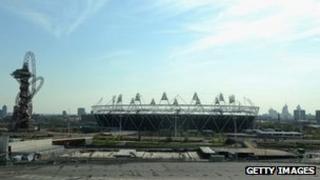 Ten thousand jobs could be created at a new cultural and educational quarter being planned for the London Olympic Park, according to politicians.
The Olympicopolis project has been announced in the chancellor's National Infrastructure Plan.
University College London and the Victoria and Albert Museum could be part of the development sited between the stadium and Stratford station.
It is hoped the scheme will bring major investment to the area.
UCL is putting together its initial plans for the scheme, however it is looking at potentially having a centre for culture and heritage, a design school, a biotech hub and an educational technology centre, as well as a space for entrepreneurs.
The V&A's plans would enable more of its permanent collection to be displayed, as well as providing a showcase for temporary and touring exhibitions and a centre for research and conservation.
'Magnificent site'
The idea for the site to be called Olympicopolis came from the achievements of Prince Albert, who used the proceeds of the 1851 Great Exhibition to create Albertopolis, the 86-acre site around Exhibition Road in South Kensington which now includes the Royal Albert Hall, V&A and the Science Museum.
The government, UCL, V&A and the mayor will now work on funding arrangements.
Talks with a number of other major institutions keen to explore tie-ins with both UCL and V&A will continue in the New Year.
London Mayor Boris Johnson said: "As our Olympic park reopens, I want to raise our ambitions for this magnificent site to squeeze out every drop of potential.
"We want to use Queen Elizabeth Olympic Park as a catalyst for the industries and technologies in which London now leads the world in order to create thousands of new jobs."