Mark Duggan shooting an execution, witness claims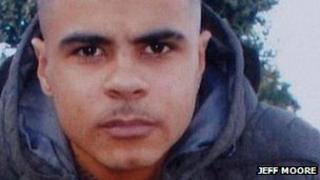 A journalist has told a court that a man who claimed to have witnessed the shooting of Mark Duggan described it as an "execution".
The journalist, known as Witness C, told the inquest into Mr Duggan's death he had written notes of his talks with the witness last year.
A man, identified as Witness B, has claimed Mr Duggan was carrying a phone and surrendering when he was shot.
Firearms officers have said Mr Duggan was shot as they believed he was armed.
Mr Duggan was shot dead in Tottenham in August 2011, sparking riots that spread across England
He was killed when the taxi in which he was travelling was stopped by armed police.
'An execution'
The BBC journalist had two meetings with the witness, who filmed the aftermath of the shooting and supplied the footage to the broadcaster.
Leslie Thomas, representing Mr Duggan's family, questioning Witness C about his notes of his meetings with Witness B, said: "Witness B said to you that it was an execution?"
Witness C replied: "Those were his words."
Mr Thomas said: "Any doubt about that?"
Witness C replied "No."
The journalist had also written that the witness said the phone Mr Duggan was holding "went flying" after he was shot.
Witness C told the inquest his notes were "accurate", but he could not be "100%" sure about later notes he wrote saying the witness had "initially" thought that Mr Duggan was carrying a gun.
Cross-examined by Ian Stern QC, for the police firearms officers, Witness C said he had not carried out any background checks on Witness B to see if he had been influenced by others and he had not checked the view that the witness would have had of the shooting.
'Instinctive shot'
The jury was also told that doubts had been raised about the trustworthiness of one of the firearms officers who was at the scene of the shooting.
The officer, who is known as Q63, did not shoot Mr Duggan.
However, in 2005, Q63 took an "instinctive shot" at the driver of a car, which he believed was carrying a man who had a gun.
The inquest heard that Q63's account of events during the 2005 incident had not been supported by CCTV evidence.
The officer had not been disciplined or prosecuted but the Independent Police Complaints Commission noted that in future "his testimony would have to be treated with extreme caution".
The inquest continues.