London cycle hire journeys fall by 200,000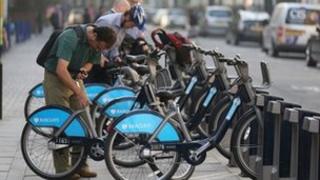 The number of journeys on London's cycle-hire has fallen by almost a third compared to a year ago.
More than 514,146 journeys were made in November compared to about 726,893 in November last year, Transport for London (TfL) data reveals.
There has been a consistent fall this summer, reaching a peak of 998,755 in July. But this is much less than the August 2012 peak of 1.16 million.
The Olympics and Jubilee prompted a record usage, the mayor's office said.
London Assembly Green Party Member Darren Johnson has questioned whether the scheme offered "good value for money".
More than 26 million journeys have been made on Barclays Cycle Hire scheme since its launch in July 2010.
At least 2.18 million journeys were made in 2010, rising to 7.14 million in 2011 and a record 9.51 million in 2012.
Cycle safety
The so-called Boris bikes logged more than one million journeys every month between July and September last year, which coincided with the Olympic and Paralympic Games in the capital.
But the total usage has dropped to 7.6 million so far this year and there has also been a year-on-year fall since the summer.
The cost of hiring the cycles has also doubled since January this year, with 24-hour access rising from £1 to £2, weekly use rose to £10 and the annual membership increased from £45 to £90.
But the recent spate of cycle deaths in London - six deaths over two weeks in November - has not had an impact on the use of the bikes, Mayor Boris Johnson's office said.
A spokesperson for the mayor said: "As was widely reported in June this year, 2013 has seen a drop in usage of the Barclays Cycle Hire scheme compared to the record Olympic and Jubilee year of 2012.
"We are encouraged that contrary to claims that cycling is falling in the wake of the recent tragic deaths, we have seen no evidence of this from the hire figures for November.
"The year-on-year fall in this month was less than the year-on-year fall for September."
Darren Johnson said: "The steep decline in the number of cycle hires and therefore the revenue raised from user fees poses questions over whether this heavily subsidised scheme is really offering good value for money for the London taxpayer."
TfL "should be encouraging the greatest possible use of the scheme by keeping user fees affordable instead of doubling them," he added.