On-the-run prisoner Lee Cyrus guilty of sex attacks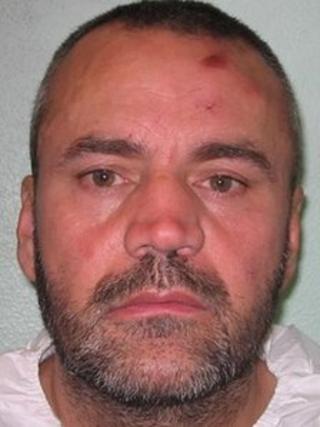 A convict has been found guilty of a series of sex attacks on women in north London while on the run for two months from an open prison in Lincolnshire.
Lee Cyrus, 48, from Preston, absconded from North Sea Camp open prison in Boston, on 9 October last year.
The attacks took place in the Hampstead Heath area. He was convicted of 11 offences including exposure, robbery, and wounding with intent.
Cyrus, also known as Ivan Leach, will be sentenced on 13 December.
He was also convicted of two counts of indecent exposure in Boston Cemetery, Lincolnshire, in September 2012 while still a serving prisoner on day release.
Cyrus was acquitted of one further count of indecent exposure on 28 October last year at Southwark Crown Court on Monday.
'Terrifying campaign'
The attacks in the Hampstead Heath area began within weeks after he went on the run.
He was caught on 2 December last year when police were called to a report of a man exposing himself to a 45-year-old woman in Hampstead Heath, police said.
Cyrus stalked and terrorised women and on many occasions he was armed with a knife and wore a black balaclava, the Met said.
Describing the prisoner as a "violent predator" Acting Det Supt Raffaele D'Orsi said: "I have no doubt in my mind that Cyrus's arrest on the night in question prevented further serious injuries to other victims."
Baljit Ubhey, Chief Crown Prosecutor for the Crown Prosecution Service London, said: "Cyrus conducted a terrifying campaign of increasingly violent crimes in the Hampstead Heath area of London between 24 October and 2 December 2012.
"He targeted lone and vulnerable females and was often armed with a knife. His actions began as incidents of indecent exposure and progressed to brutal attacks on elderly women in their own homes."