Mark Duggan 'was surrendering' when shot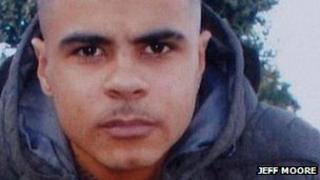 Mark Duggan appeared to be surrendering when he was shot by police in Tottenham, north London, an inquest into his death has heard.
A man, identified as Witness B, said he saw him from a flat on the 9th floor of a building near the scene in Ferry Lane in August 2011.
He said Duggan was "definitely" holding a phone when he was shot.
The witness later denied he had changed his statement after other evidence said he initially thought it was a gun.
The inquest heard Witness B looked out of an open window after hearing the screech of tyres and shouting.
He filmed the aftermath of the shooting and supplied the footage to the BBC, but said he did not want to give evidence or meet the police or the police watchdog.
Witness B told Leslie Thomas QC, who also represents the Duggan family, that the 29-year-old appeared "trapped" and "baffled" and had his hands raised as if to surrender.
"Are you saying Mark Duggan was shot when he looked as if he was surrendering?", the barrister asked.
Witness B said: "Yes".
"Any doubt about that?" Mr Thomas asked.
"None whatsoever," the witness replied.
Previously, the jury heard a gun was found about 20ft (6m) from where 29-year-old Mr Duggan, who police thought was armed, was shot.
Witness B said when he looked out of the window of the flat after hearing people shouting "put it down" or "get down", he saw a man next to a people carrier.
'Played on my mind'
He said: "When I saw him he was on the sidewalk and he tried to run off towards Tottenham Hale but there was a police officer there so he turned around towards Blackhorse Road."
Ashley Underwood QC, counsel to the inquest, asked Witness B: "Could you see his hands?"
He replied: "Yes. It looked like a phone clutched in his hands. And he had his hands up above his shoulders near his face. This was when he was running towards Blackhorse Road.
"There was a police officer standing in front of him… That was definitely a phone clutched in his hand."
He said Mr Duggan was then shot twice by a police officer who was about five to seven steps from him.
When Mr Underwood asked how he knew Mr Duggan had been shot, the witness replied: "I heard the shots. The way he fell as well. He just collapsed."
Witness B said he then went to get his phone and started filming the scene, which the jury was shown in court.
"I took the video, I gave it to the BBC so they could put it out there. I had to move out of London because of it. I wanted to be left alone."
When asked what worried him, Witness B said: "It's not every day you see someone get shot in London and dying.
"It played on my mind a bit."
'20/20 vision'
Under cross examination by Ian Stern QC for the police firearms officers, he was asked why the notes suggested he had originally thought Mr Duggan had a gun.
The handwritten notes, made by a BBC employee, said B "initially thought gun but then read n/papers (newspapers) then thought it was Blackberry."
Witness B said he could not remember saying that and denied changing his mind.
Mr Stern asked: "How are you sure from 150 metres away that it was a phone?" to which Witness B replied: "20/20 vision."
He then said he had always said it was a phone.
However, Mr Stern replied: "But with respect, you haven't have you?"
Witness B was also asked why he had originally said police shouted "put it down" but during evidence at the inquest he had said he was unsure if it was "get down" or "put it down" or both.
The inquest was shown more of the BBC notes of its meeting with Witness B which read: "split second, then fire, 2 shots, then phone went flying."
Witness B said: "Thinking about it, I didn't see the phone flying. He dropped with the phone in his hand."
He said that parts of what he said to the BBC in 2012 "must be wrong" but his account of events given in court were correct.
The inquest continues.