Teenager stabbed to death in Palmers Green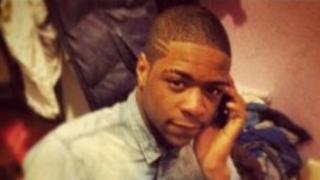 A teenager has been stabbed to death in north London, police have said.
Officers were called to an address on the North Circular in Palmers Green at about 00:45 GMT, where they found the 17-year-old. He was pronounced dead at the scene just after 01:25.
The victim has been named as Joshua Folkes, who was also known as Money J to his friends.
A post-mortem test gave the cause of death as a single stab wound to the chest. No arrests have been made.
Friends have been leaving messages and tributes at the scene.
Charmaine Williams, 18, told BBC London: "He was just a happy person. Just a smiling, bubbly, person. It doesn't feel real. I can't believe he's gone."
One teenager, who did not want to be named, claimed to have witnessed the aftermath of the stabbing.
'Heartbroken'
She said: "It happened at about 12:30. I heard a commotion and then it went quiet.
"I looked outside my window and saw him on the floor. He wasn't moving and someone was standing over him screaming.
"He wasn't responding and I then called the ambulance."
She added: "He was lovely, one of the nicest boys you could meet - his mum is heartbroken."
Friend Azra Valentino, 18, said: "Josh was the last person who you'd think would be on the news for a death or something, he wasn't like that. He got caught up in it."
Saffron Davis, 17, said she was struggling to hold back tears when she thought about her friend of 15 years.
"I still can't believe it," she said.
Saffron said she thought Joshua was in Palmers Green to visit his girlfriend when the incident took place.
Det Ch Insp Nicola Wall said: "We are appealing to the local community about the murder of a boy who was loved by his family. His death has left them devastated.
"We are appealing to Josh's friends and the community to come forward and help us find his killers. Someone out there must know who is responsible for this murder."
Eleven other teenagers have died in violent circumstances in the capital this year, the Met Police said.
Six were stabbed, four were shot and one died from other causes.