Mumbai terror victim seeks UK compensation claim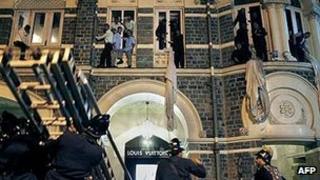 A holidaymaker left paralysed after being caught up in the Mumbai terror attack has argued his compensation claim should be heard in the UK.
Will Pike, 33, from north London, is in a wheelchair after falling nearly 50ft (15m) from his bedroom window .
He was trying to escape the extremists who attacked the Taj Mahal Palace Hotel in November 2008.
He alleges the hotel owners did little to provide security despite warnings an attack was imminent.
'Exercise in futility'
The freelance filmmaker and his then girlfriend, Kelly Doyle - who is also bringing proceedings - claim they saw limited security checks with only one metal detector and cursory screening of guests.
They say they were not given proper advice about emergency procedures or evacuation routes.
When they heard doors being kicked in and shots being fired, they had to break a window with furniture from their smoke-filled room and try and reach the ground using bedding and curtains knotted together, they said.
Mr Pike's lawyers, Leigh Day, told the High Court that the case should be heard in London, where Mr Pike lives and where The Indian Hotels Company Ltd, which owns the hotel, has a substantial business presence.
His solicitor, Russell Levy, said that fighting the case through the Indian courts would be an "exercise in futility".
He said: "Mr Pike's only real hope of seeing justice is in a UK court. The court in Mumbai simply isn't geared up to deal with a claim of this kind.
"We estimate that it would take up to 25 years to pursue this claim through the Indian courts rather than in England, where it will take about two years."
Before the three-day hearing, which will be taken up with evidence from law experts, Mr Pike said: "I do not see why the British taxpayer should have to pay for the lifelong care I need rather than those who I believe did not do enough to guarantee my safety."