The Grillo sisters: Nigella's 'kitchen confidantes'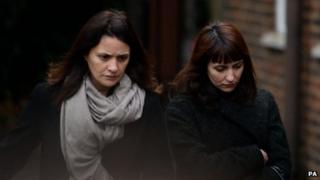 In her 2011 book, Kitchen: Recipes from the Heart of the Home, Nigella Lawson wrote, "I give heartfelt thanks to... my kitchen confidantes: Lisa and Francesca Grillo".
The pair had been working for the celebrity chef for years and were considered like "family".
But two years after Ms Lawson publicly thanked them, the Grillos were appearing in court accused of fraud.
The trial heard the sisters - who arrived in the UK from Calabria, in Italy, in 1999 and worked as personal assistants to Ms Lawson - had been spending tens of thousands of pounds each month on luxury holidays and designer clothes.
They claimed the spending, which totalled £685,000, had been authorised by Ms Lawson in return for them not revealing her drug use to her second husband Charles Saatchi.
'A stalwart'
Elisabetta, 41, who is also known as Lisa, had known Ms Lawson since 1999 when she began working as a nanny for the food writer in her family home in Shepherd's Bush, west London. In 2001 she was joined by her sister Francesca, 35.
Ms Lawson described Elisabetta as "a stalwart" in court, who helped her through the death of her first husband, journalist John Diamond.
"She came to me at a very difficult time in my life," Ms Lawson told the court. "She was a rock. I would have done anything for her."
When Ms Lawson married Charles Saatchi in 2003 the sisters stayed with the family, but their role changed as the couple's children grew older.
Mr Saatchi told the jury: "The truth is, there was no real need for us to keep them both on but we both liked them very much and we found work for them."
The sisters were employed as personal assistants and given a variety of duties including - Elisabetta claimed - travelling around London buying copies of one of Mr Saatchi's books, in order to push it up the bestseller list.
The court was told Francesca worked long hours and "lived and breathed" the couple, while Ms Lawson confided in Elisabetta when her marriage to Mr Saatchi became strained.
However, there were tensions in the house and in 2004 Elisabetta moved out and took another job.
She told the court: "I wanted to be out of the house... it was stressful because Charles was not easy."
She returned three and a half years later after working as a sales assistant at a shoe company, but despite returning to the pay roll, Elisabetta chose not to live with the couple.
Asked why she went back to work for the family, Elisabetta told the jury: "I thought it might be better but it got worse."
Her unhappiness was noted by Ms Lawson, who told the court her attitude became "increasingly bitter" as time went on.
'Jail better than Battersea'
In 2012 Mr Saatchi's accountant, Rahul Gajjar, noticed spending on the Grillo sisters' credit cards had rocketed. Francesca had been running up an average monthly bill of £48,000, while Elisabetta spent £28,000.
These included Francesca spending £64,000 in June 2012 on luxury holidays and designer clothes from Miu Miu and Prada. However, she told the court the purchases had been authorised by Ms Lawson, who "was extremely generous".
Mr Gajjar said he challenged the sisters over their spending and they were at first apologetic. However, when he wrote to the pair outlining how they should repay the debt, Elisabetta complained they were "being treated worse than Filipino slaves".
As part of a repayment plan, they were also offered the chance to live rent-free in Ms Lawson's house in Battersea, south-west London. However, Mr Saatchi told the court Francesca refused, declaring: "I'd rather go to jail than go to Battersea".
Meanwhile, Francesca said Mr Saatchi had warned her: "Hide anywhere in Italy but I will find you and destroy you".
'Off your head'
During the trial the sisters claimed that they had a "tacit understanding" with Ms Lawson that they could keep spending as long as they did not "shop her" drug use to Mr Saatchi.
The jury heard that Elisabetta never confronted Ms Lawson about her drug use as she "did not want to embarrass her".
In court Francesca said she had not seen Ms Lawson taking drugs, but she had regularly found rolled up bank notes with white powder on them in Ms Lawson's handbag.
Giving evidence, Ms Lawson admitted taking cocaine a handful of times with her first husband when he was terminally ill and once during her marriage to Mr Saatchi. She denied having a drug problem or being an addict.
Mr Saatchi told the court he had "no proof" his ex-wife ever took drugs, although the court was read an email he sent her in which he accused her of being "so off your head on drugs" she had allowed staff to spend "whatever they liked".
The Grillos said their former employers had not spoken to them since they were arrested in August 2012, but the sisters were convinced they had done nothing wrong.
"I still think I was allowed," said Elisabetta.
"And I was allowed, Nigella told me. I felt I was right. I am right."