The slow and painful recovery of cyclist struck by HGV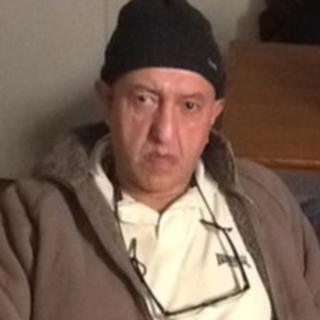 Olimpo Andrade is clearly in pain as he slowly shuffles on crutches into his small living room.
This is what happens to those who survive colliding with an HGV.
Olimpo is from Ecuador and came over to the UK in 2000. He cycled everywhere and says he was always very careful.
One February morning in 2011, at 07:20 (he remembers the time precisely), on his way to work he was overtaking a bus on Brixton Road when an HGV came up on his outside. He thinks the driver didn't see him.
The HGV ran over his pelvis and his legs and Olimpo lost his left leg. He was in hospital for many months and is still in constant pain.
Olimpo can't get around very well and spends most of his time stuck in his flat.
He shows us his prosthetic leg, but he is quite unstable without his crutches and nearly three years after the incident he is still fighting for compensation.
He has a quiet anger to him.
His solicitors Anthony Gold think he has a good case but the reality is it takes years for these things to be resolved.
Not all collisions on a bike are as devastating but if you survive one with an HGV then the injuries are usually life changing.
A Com Res poll of 1,070 adults in London, a quarter of whom described themselves as cyclists, found 20% of cyclists had been involved in a collision.
That increases to 26% for those who cycle at least once a week.
What the poll also shows is cyclists have changed their behaviour after recent spate of cycle deaths in the capital.
And 20% say they have stopped cycling to work, while 30% cyclists say they have changed their route to work.
Cycling revolution
There is also a huge support for segregation of cyclists and HGVs, a policy that is being implemented but it is taking time.
The polling shows the mayoral policy of segregation is popular, but 79% of those polled think the mayor has to do more.
That means either the message is not getting through, of the planned changes, or they want more.
I suspect there is a disconnect between City Hall and its cycling plans - the cycling revolution - and the wider public.
Segregated infrastructure
Campaigners think improvements to the roads must be sped up by the mayor and they want to know why it is taking so long.
City Hall says it has to get it right but it will deliver new segregated infrastructure.
Statistically, City Hall says cycling is safer than it has ever been.
But the policy gap between the number of cyclists and the lack of safe separate infrastructure is not going away soon.
All of this is too late for people like Olimpo. He says he doesn't think the roads are safe.
He is stuck in a world of painkillers, going to his GP, trying to get to hospital and staying in his flat.